Wealthy People of the Bible by Ola Aroyehun
Author:Ola Aroyehun , Date: July 1, 2020 ,Views: 9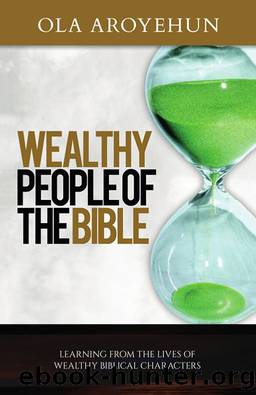 Author:Ola Aroyehun
Language: spa
Format: epub
Publisher: Estayor Publishing
Published: 2017-03-15T00:00:00+00:00



11
SOLOMON – H OW A WISE MAN BUILT A SPECTACULAR WORSHIP PLACE FOR GOD
Significance: Son of David
Type of wealth: Gold, animals, spices, silver
Scriptural reference: 1 Kings 10
"King Solomon was greater in riches and wisdom than all the other kings of the earth" (2 Chronicles 9:22).
Solomon was the son and successor of David and the third king of Israel's united kingdom. He succeeded his father on the throne in early manhood, after his father David's death. He became ruler of Israel in approximately 967 B.C. His parents were David and Bathsheba.
The relationship of David and Bathsheba did not begin well. David had committed adultery with Bathsheba while her husband was away at war. She became pregnant so David arranged for her husband to be killed on the frontline. After his death, David took Bathsheba as his wife, but God was not pleased with this. The first son born to them died but she became pregnant again and had another son called Solomon, who was loved by God. Solomon means sun as well as peace.
Solomon was a handsome man, attractive to women. He was born into the royal family and knew court-life intimately. He was well acquainted with the wealthy and powerful, and would have observed the heights of success and depths of failure of his father's reign. He possessed courtly manners and a lively and youthful spirit. The crowning achievement of Solomon's reign is the building of the temple, which his father David had dreamt about.
He is often described as the richest man who ever lived. Solomon, more than any man before, knew how to amass and creatively use wealth and with the exception of Jesus Christ, Solomon is the wisest man in human history. He was famous for his wisdom, understanding and intellectual achievements. He was also known for his wealth and writings. He is credited with writing most of the book of Proverbs, the Song of Solomon, the book of Ecclesiastes and two Psalms.
His forty year reign is regarded as Israel's golden age. It was an age of prosperity and national unity. Solomon grew up in a polygamous house and himself was to take hundreds of wives and concubines in his later years which led to his downfall. His reign ended disastrously and he began to oppress people, multiply wives and introduced pagan worship.
Early influences
His faith in God must have come from his father David, who the scriptures describe as a man after God's own heart. One other person, however, stands out as having an early influence on Solomon's life. This was the prophet Nathan, who gave him the name Jedidiah. Prophets often ministered to Hebrew kings and Nathan was a prophet to David, Solomon's father.
It appeared that Nathan was entrusted with Solomon's education. It was Nathan who rebuked David, after he had killed Bathsheba's first husband. As a prophet, Nathan knew that it was God's intention for Solomon to build God's temple and to succeed David as the next king of Israel.
Not much is recorded of Nathan's influence
Download


Copyright Disclaimer:
This site does not store any files on its server. We only index and link to content provided by other sites. Please contact the content providers to delete copyright contents if any and email us, we'll remove relevant links or contents immediately.