Trees in Trouble by Daniel Mathews
Author:Daniel Mathews , Date: April 14, 2020 ,Views: 295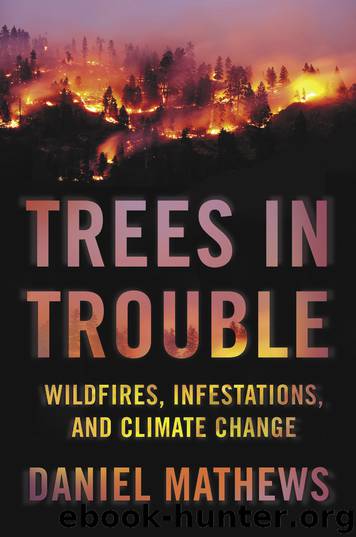 Author:Daniel Mathews
Language: eng
Format: epub
ISBN: 9781640091368
Publisher: Counterpoint
Published: 2019-12-27T00:00:00+00:00



Bioenergy is also debatable on economic grounds. A biomass plant may pay a little bit for woody biomass, but probably not as much as it costs to deliver it to them. Some Asian nations are seriously looking at biomass burning as a major fuel for their electric grids, and some Arizona researchers are looking into that market for entire trainloads and shiploads of chips. But if the stuff gives off only a little more energy than it takes to truck it a hundred miles, how can it possibly pencil out if you're then shipping it five thousand miles?
In most cases it will have to be subsidized. A modest subsidy for moving biomass to a bioenergy plant, just as a way to get that fuel out of the woods, may in many cases be a good deal for society, once you figure in future reductions in firefighting costs, losses from wildfire, and losses from fire-related floods. Indeed, it was always expected that collaborative projects would need subsidies; that's why the CFLRP was enacted.
Burning slash for energy should have a relatively attractive carbon footprint once you've ruled out leaving it lying in the forest, especially if that's replacing power that would otherwise come from burning coal or natural gas (currently the case in Arizona). One reasonable way to burn it for energy is home heating with pellet stoves, at least within lightly populated areas where the smoke output doesn't rule it out. Modern pellet stoves produce more heat, with less smoke, than other ways of burning wood. Unfortunately, only the relatively solid wood parts of slash can be pelletized. The search for more good alternatives is urgent, not just in Arizona but throughout ponderosa pine country.
An alternative way of leaving it lying in the forest is to chew it up first. It's called mastication. Big machines do the chewing, of course. They have aggro names like Bull Hog, Slashbuster, Hydroax, and Brontosaurus. The Slashbuster features a four-foot disk studded with huge teeth whirling inside a partial steel bowl at the end of a long articulated arm mounted on an excavator with either rubber tires or tracks. Other styles have long drums on horizontal axes bearing huge fixed teeth or swinging knives. The operator—protected in a strong cockpit—just shoves the "head" onto limbs, shrubs, slash, or even whole trees, and the chips fly—shreds of wood up to several inches long. It's a quick-and-dirty way to prune off all the lower tree limbs while also demolishing much of the shrub layer—basically an entire fuels reduction treatment in one wild pass with just one operator.
Mastication has rapidly gained popularity. To my mind, that's because it offers fuel treatment on the cheap; but it is truly playing with fire. Masticated fuels have not yet burned in enough wildfires to provide a clear verdict. However, Bob Keane of the Fire Lab in Missoula did a broad experiment up and down the Rockies, and issued a harsh warning: if a wildfire hits masticated wood chips, they can make the fire more deadly to trees.
Download


Copyright Disclaimer:
This site does not store any files on its server. We only index and link to content provided by other sites. Please contact the content providers to delete copyright contents if any and email us, we'll remove relevant links or contents immediately.