Tomb Sweeping by Alexandra Chang
Author:Alexandra Chang , Date: September 19, 2023 ,Views: 52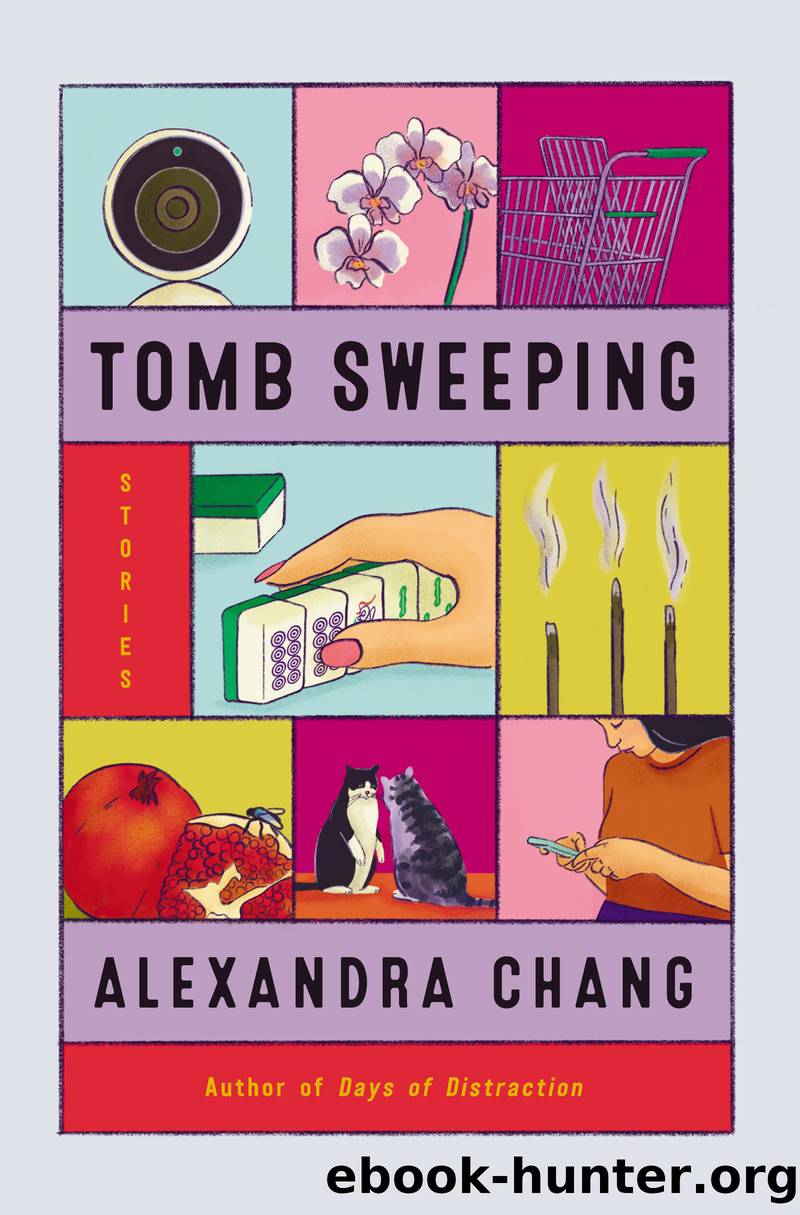 Author:Alexandra Chang
Language: eng
Format: epub
Publisher: HarperCollins
Published: 2023-06-02T00:00:00+00:00



Finally, Mommy got Daddy to call Johnson.
"What are you doing all day? You're so worried about wasting water or money or whatever, but this is the real waste—of time," she said to him.
Daddy had to be the one to call Johnson because he didn't have to go to work like Mommy. His job was to take care of the house and of us, now that school was out, which so far had meant killing flies, steaming us dumplings in the morning, killing flies, boiling us hot dogs around noon, and killing flies until Mommy came home and cooked dinner. She had two jobs, too, except her jobs paid her money. One was at a wine company and the other at an Asian grocery market. She worked as a bookkeeper. She explained that she kept track of how much money came in and out of the businesses. I saw dollar bills flying in and out of the front doors of a low gray office building and her having to sit there counting each one that entered and exited. It seemed like a hard and boring thing to do.
Johnson came on a Tuesday afternoon. We called him by his last name because that's what Daddy called him. His first name was equally boring. Tom or Bob or John or Blah. Daddy didn't like him, so neither did we. He smelled weird, like a skunk. He was younger than Daddy, but with more white hair, and the pink of his face made him look sunburned or drunk. One time he came to install a garbage disposal he'd promised months earlier, and as he walked out, he patted my head goodbye. When Daddy saw that, he yelled after Johnson not to pat my head ever again. It was really bad luck to be patted on the head by someone outside of family. He cursed Johnson all night and told me to pray to Buddha that the bad luck Johnson had bestowed on me be transferred back to him and multiplied by a hundred.
The day Johnson came for the flies, Didi and I hid inside my room and tried to play cards. Johnson almost never came around, but when he did, we knew to stay out of the way, especially if Daddy wanted to talk to him.
"The house is completely clean, as you can see," we could hear Daddy saying in the living room. He cared a lot about cleanliness. I forgot that part of his job, and it's also why he hated the flies so much. He cleaned constantly, wiping down counters, mirrors, the faces of cupboards, drawers, and the refrigerator. He dusted, he washed dishes, he told us to pick up after ourselves. His daily belongings—a leather and metal wallet clip that held a few cards and bills, recent receipts and coupons folded down the middle; keys; a small notebook; a pen; a bottle opener—were placed in a perfect grid atop the coffee table. Things we weren't allowed to disturb.
"The flies are most likely coming from somewhere hidden, from cracks, flying from the outside in," Daddy said.
Download


Copyright Disclaimer:
This site does not store any files on its server. We only index and link to content provided by other sites. Please contact the content providers to delete copyright contents if any and email us, we'll remove relevant links or contents immediately.