The Widow by Mary Kingswood
Author:Mary Kingswood [Kingswood, Mary] , Date: February 15, 2020 ,Views: 95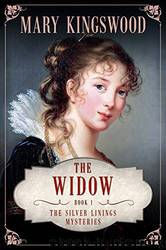 Author:Mary Kingswood [Kingswood, Mary]
Language: eng
Format: epub
Tags: Amazon, Romance, cThriller, Historical
Amazon: B07PQ2GVNF
Publisher: Sutors Publishing
Published: 2019-06-12T22:00:00+00:00



18: A Visit To York
Nell had one more member of the immediate Harbottle family to meet. Mrs John Drabble was the dowager's only daughter, and a widow of some years' standing. She was a bustling woman with a loud voice and a straightforward approach that was not ill-mannered but bordered on brusque. While Jessica was occupied with Louis, Mrs Drabble took Nell out into the garden for a little exercise and a lot of gossipy chatter.
"Widowhood is not easy," she told Nell, "but the sable cloud turns forth her silver lining, as the poem goes, and so you will discover, my dear, if you have not already. One loses a beloved husband, but one regains oneself, if you understand me. The days of standing in a man's shadow are over. And there are other benefits… I loved John dearly and I miss him still, but if he had lived I should have been knee-deep in children. A dozen, at least. As it was, the four who survived were more than enough for me to manage after he died. But they are all settled now, the boys in good careers and the girls advantageously married, and so I am quite at leisure to meddle in everyone else's lives." She laughed at her own wit, with a merry, musical chuckle that was infectious, and made it quite impossible to dislike her. "How long were you married, Mrs Caldicott?"
"Nine years."
"Oh. You are so young I had thought it must be less. Why, you must have been barely out of the schoolroom."
"I was seventeen, and I had had my season in London already."
"Ah, that is something, at least. One does not quite like to see a girl move directly from schoolroom to altar. It is unseemly, in my opinion, and not in the least necessary. If a woman is to be a helpmeet and companion to a man of sense, then she ought to have a little experience of the world. I was nineteen when I married and that was young enough, for I knew nothing. But I had eleven good years with John, and Jessica almost twenty with William. Jessica does not know it yet, but she is free at last. William was a good sort of man, but he had no imagination. He was the only one of us who dutifully married to please Mama and Papa's notions of an appropriate match. Andrew, James and I all married beneath us, and Walter never married at all." She laughed again, then went on more seriously, "Did your parents have the same sort of high-flown ideas for their offspring, Mrs Caldicott?"
"Papa did. My marriage caused an irreconcilable estrangement." Nell felt no need to offer any reasons for the breach.
"Mine too," Mrs Drabble said, laughing again. "However, when John died, my brother accepted me back into the family fold."
"Whereas mine did not," Nell said, trying not to sound bitter. "Papa made him swear a solemn oath."
"Ah," Mrs Drabble said, shaking her head. "So much family pride, instead of family affection.
Download


Copyright Disclaimer:
This site does not store any files on its server. We only index and link to content provided by other sites. Please contact the content providers to delete copyright contents if any and email us, we'll remove relevant links or contents immediately.