The Twenty-Ninth Day by Alex Messenger
Author:Alex Messenger , Date: January 17, 2020 ,Views: 473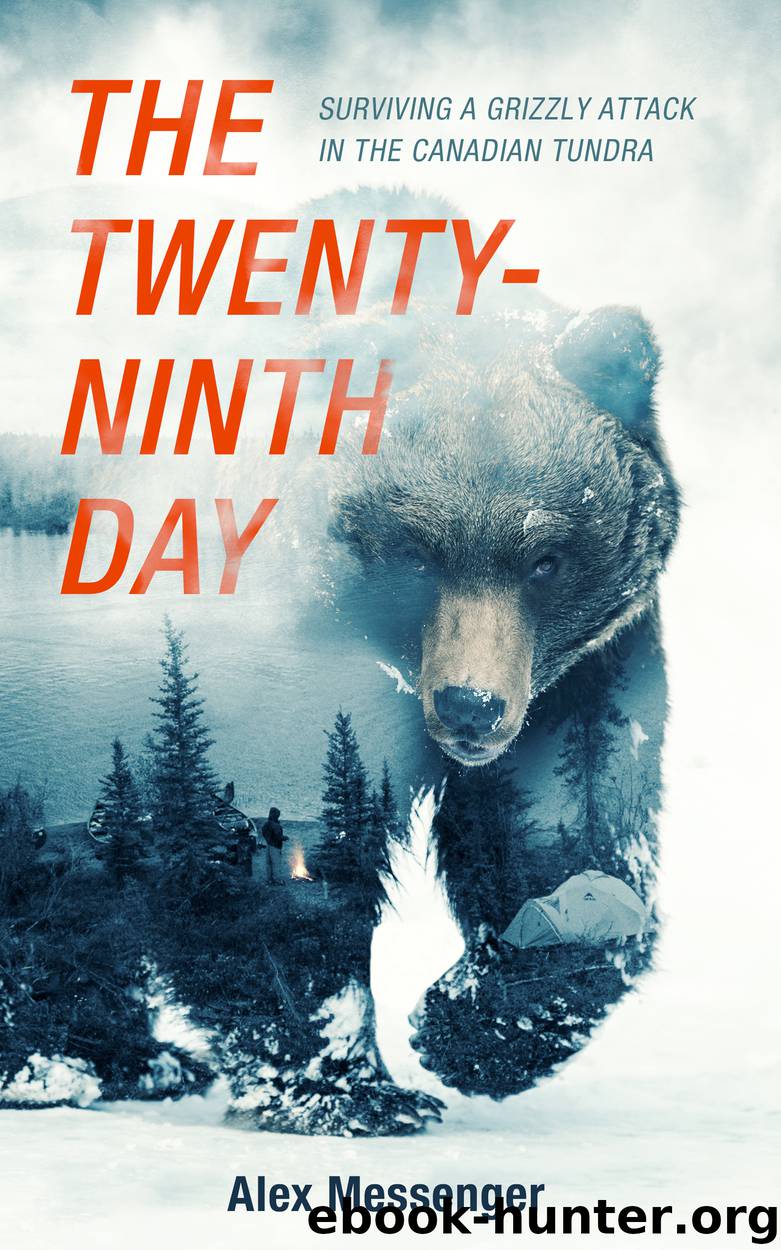 Author:Alex Messenger
Language: eng
Format: epub
Publisher: Blackstone Publishing
Published: 2019-09-24T19:22:22+00:00



That's not a thing any of us are granted. To go back. Wipe away what later doesn't suit us and make it the way we wish it. You just go on.
—Charles Frazier, Cold Mountain
CHAPTER FIFTEEN
What Now? Day 29, 19:45
I was still worried about the ridge. The guys were watching it, but I felt as if it were watching me. I felt its presence. It seemed like a veil, hiding something that was just waiting for me.
I thought back to the attack and shuddered.
For the first time, the gravity of what had happened hit me. I had been mauled by a grizzly bear. I had been sure I was about to die, and nearly did. And now here I was, having my wounds looked after, and likely to live.
But we were still in the middle of nowhere.
The edges of my vision darkened, shimmering as my visual field narrowed slightly. The terrifying memory flickered in my head now in sharply vivid moments. Hard, loud sounds and intense, violent flashes of movement slammed into my psyche. I nearly died, I thought again, my breath speeding up. One more quarter of an inch, and then …
With this realization—one based on evidence rather than on the previous visceral images—my peripheral vision shrank. The edges of darkness closed in around me, and its shimmering borders crept toward the middle of my consciousness. I was starting to hyperventilate, too. It's not just about me, I thought. This is about much more than me. This is about me and all the people I know, and some I don't even know.
My narrowing vision held steady now. It was like looking at the world through a hole in dark paper. This affected many people, and my death would affect many more. My dying would be less about me than about everyone else. I didn't want to die, but if I did, the ones hurting would be the ones left behind, the ones reeling from it, the ones carrying it with them like a dark, violent blot in their memories, for the rest of their days.
With the start of this realization, an image of an old-fashioned Rolodex popped into my mind as if being presented to me. Instead of names and numbers on the cards, there were faces, portraits like those from the high school yearbook, with a head and shoulders in front of some nondescript backdrop. This was my Rolodex. These were people I knew, people I cared about, people who I thought might care about me. Just after appearing, the first card flipped down to reveal the second. It was another portrait, another friend. Then, more quickly now, the second card flopped over to reveal the third. On they came. There was no logical order to the faces, but they were all people I knew—friends, classmates, family. Cascading, accelerating, each card and its portrait appeared for less time before flicking to the next. Ten faces, fifty faces, a hundred. The cards started to blur, though each face stayed for a frame, each one distinct from memory.
Download


Copyright Disclaimer:
This site does not store any files on its server. We only index and link to content provided by other sites. Please contact the content providers to delete copyright contents if any and email us, we'll remove relevant links or contents immediately.