The Solace of Open Spaces: Essays by Ehrlich Gretel
Author:Ehrlich, Gretel [Ehrlich, Gretel] , Date: July 24, 2020 ,Views: 561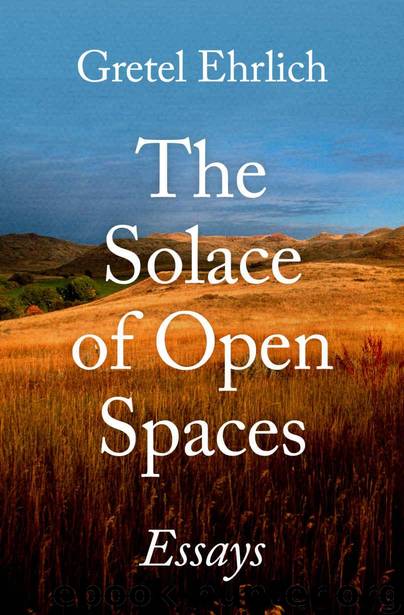 Author:Ehrlich, Gretel [Ehrlich, Gretel]
Language: eng
Format: azw3, epub
ISBN: 9781504042888
Publisher: Open Road Media
Published: 2017-02-20T16:00:00+00:00



What we may miss in human interaction here we make up for by rubbing elbows with wild animals. Their florid, temperamental lives parallel ours, as do their imperfect societies. They fight and bicker, show off, and make love. I watched a Big Horn ram in rut chase a ewe around a tree for an hour. When he caught and mounted her, his horns hit a low branch and he fell off. She ran away with a younger ram in pursuit. The last I saw of them, she was headed for a dense thicket of willows and the old ram was peering through the maze looking for her.
When winter comes there is a sudden population drop. Frogs, prairie dogs, rattlesnakes, and rabbits go underground, while the mallards and cinnamon teal, as well as scores of songbirds, fly south because they are smarter than we are. One winter day I saw a coyote take a fawn down on our frozen lake where in summer I row through fragrant flowers. He jumped her, grabbed her hind leg, and hung on as she ran. Halfway across the lake the fawn fell and the coyote went for her jugular. In a minute she was dead. Delighted with his catch, he dragged her here and there on the ice, then lay down next to her in a loving way and rubbed his silvery ruff in her hair before he ate her.
In late spring, which here, at six thousand feet, is June, the cow elk become proud mothers. They bring their day-old calves to a hill just above the ranch so we can see them. They're spotted like fawns but larger, and because they are so young, they wobble and fall when they try to play.
Hot summer weather brings the snakes and bugs. It's said that 80 percent of all animal species are insects, including six thousand kinds of ants and ten thousand bugs that sing. Like the wild ducks that use our lake as a flyaway, insects come and go seasonally. Mosquitoes come early and stay late, followed by black flies, gnats, Stendhalian red-and-black ants, then yellow jackets and wasps.
I know it does no good to ask historical questions—why so many insects exist—so I content myself with the cold ingenuity of their lives. In winter ants excavate below their hills and live snugly in subterranean chambers. Their heating system is unique. Worker ants go above ground and act as solar collectors, descending frequently to radiate heat below. They know when spring has come because the workers signal the change of seasons with the sudden increase of body heat: it's time to reinhabit the hill.
In a drought year rattlesnakes are epidemic. I sharpen my shovel before I irrigate the alfalfa fields and harvest vegetables carrying a shotgun. Rattlesnakes have heat sensors and move toward warm things. I tried nude sunbathing once: I fell asleep and woke just in time to see the grim, flat head of a snake angling toward me. Our new stock dog wasn't as lucky.
Download


Copyright Disclaimer:
This site does not store any files on its server. We only index and link to content provided by other sites. Please contact the content providers to delete copyright contents if any and email us, we'll remove relevant links or contents immediately.