The Smartest Kids in the World by Amanda Ripley
Author:Amanda Ripley , Date: March 25, 2014 ,Views: 1184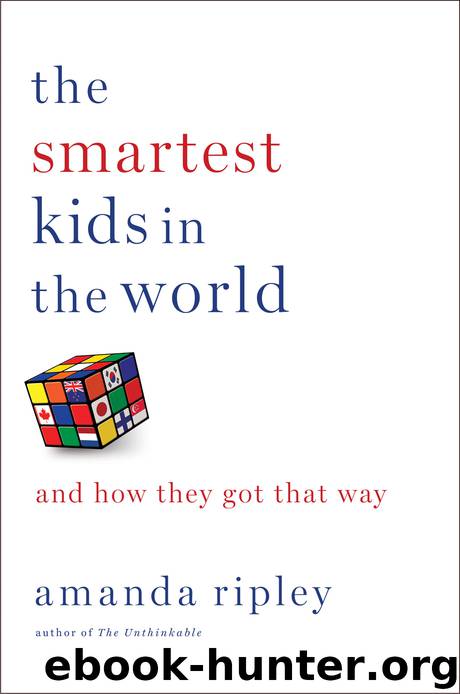 Author:Amanda Ripley
Language: eng
Format: epub, mobi
Publisher: Simon & Schuster



"i want to think about them as all the same."
Finland was a homogeneous place, but getting less so. The number of foreigners had increased over 600 percent since 1990, and most of the newcomers had ended up in Helsinki.
To find out how diversity changed the culture of rigor, I went to the Tiistilä school, just outside Helsinki, where a third of the kids were immigrants, many of them refugees. The school enrolled children aged six to thirteen. It was surrounded by concrete block apartment buildings that looked more communist than Nordic.
In a second-floor classroom, Heikki Vuorinen stood before his sixth graders. Four were African; two wore headscarves. An Albanian boy from Kosovo sat near a Chinese boy. There was a smattering of white kids born in Finland. Vuorinen gave the class an assignment and stepped out to talk to me.
Wearing a purple T-shirt, jeans, and small, rectangular glasses, Vuorinen proudly reported that he had kids from nine different countries that year, including China, Somalia, Russia, and Kosovo. Most had single parents. Beyond that, he was reluctant to speculate.
"I don't want to think about their backgrounds too much," he said, running his hand through his thinning blonde hair. Then he smiled. "There are twenty-three pearls in my classroom. I don't want to scratch them."
When pressed, he told me about one of his students in particular. She had six brothers and sisters; her father was a janitor and her mother took care of other people's children. Money was very tight. But she was, he said, the top student in his class.
Vuorinen was visibly uncomfortable labeling his students. "I don't want to have too much empathy for them," he explained, "because I have to teach. If I thought about all of this too much, I would give better marks to them for worse work. I'd think, 'Oh, you poor kid. Oh, well, what can I do?' That would make my job too easy."
He seemed acutely aware of the effect that expectations could have on his teaching. Empathy for kids' home lives could strip the rigor from his classroom. "I want to think about them as all the same."
I'd never heard a U.S. teacher talk that way. To the contrary, state and federal laws required that teachers and principals think about their kids as different; they had to monitor their students' race and income and report that data to the government. Schools were judged by the test scores of kids in each category. Most principals knew their ratios of low-income and minority kids by heart, like baseball players knew batting averages. There were important reasons for all this labeling; the U.S. government was trying to highlight injustice in order to fix it. Still, I wondered how much that raised consciousness had suppressed expectations along the way.
Diane Ravitch, one of the most popular education commentators in the United States, had insisted for years that Americans should think about our students' backgrounds more, not less. "Our problem is poverty, not schools," she told a roaring crowd of thousands of teachers at a D.
Download


Copyright Disclaimer:
This site does not store any files on its server. We only index and link to content provided by other sites. Please contact the content providers to delete copyright contents if any and email us, we'll remove relevant links or contents immediately.