The outermost house : a year of life on the great beach of Cape Cod by Beston Henry 1888-1968
Author:Beston, Henry, 1888-1968 , Date: January 10, 2021 ,Views: 91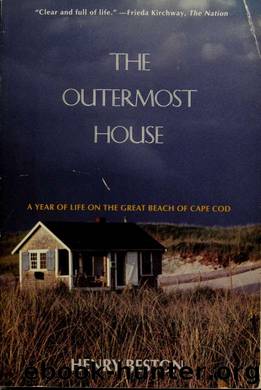 Author:Beston, Henry, 1888-1968
Language: eng
Format: epub
Tags: Beston, Henry, 1888-1968, Natural history, Birds, Naturalists
Publisher: New York : H. Holt
Published: 1992-01-14T16:00:00+00:00



100 • THE OUTERMOST HOUSE
americana, the white-winged coot Oidemia deglandi, the skunk coot, Oidemia perspicillata; I have scaups or blue-billed widgeons, Marila rnarila, dipper ducks, Charitonetta albeola, old squaws, Harelda hyemalis, eiders, Somateria dresseri, king eiders, Somateria spectabilis, and others. It is possible that, before the coming of the white man, the number of these winter outer-sea birds in the Cape Cod region exceeded that of the summer birds, but now, alas! the shotgun and the killer had their fun, the winter peoples have been wasted away, and some even exterminated. Today, the summer birds outnumber their winter kin.
A new danger, moreover, now threatens the birds at sea. An irreducible residue of crude oil, called by refiners "slop," remains in stills after oil distillation, and this is pumped into southbound tankers and emptied far offshore. This wretched pollution floats over large areas, and the birds alight in it and get it on their feathers. They inevitably die. Just how they perish is still something of a question. Some die of cold, for the gluey oil so mats and swabs the thick arctic feathering that creases open through it to the skin above the vitals; others die of hunger as well. Captain
Download


Copyright Disclaimer:
This site does not store any files on its server. We only index and link to content provided by other sites. Please contact the content providers to delete copyright contents if any and email us, we'll remove relevant links or contents immediately.