Sketches in the History of the Underground Railroad by Eber Pettit
Author:Eber Pettit [Pettit, Eber] , Date: December 16, 2020 ,Views: 111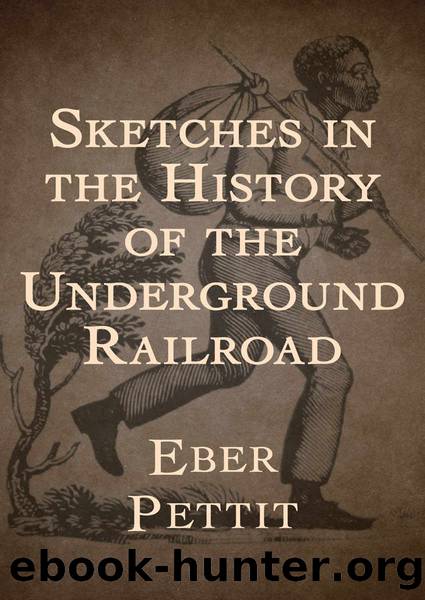 Author:Eber Pettit [Pettit, Eber]
Language: eng
Format: azw3
Publisher: Open Road Media
Published: 2015-11-23T16:00:00+00:00



CHAPTER XIV.
BLACKSMITH HENRY—WORKS HIS WAY FROM NEW ORLEANS TO BALTIMORE—WRITES HIS OWN PASS AND GETS ON TO SPRINGVILLE, N. Y.—FALLS INTO GOOD HANDS AND GETS SAFELY THROUGH—SOME ACCOUNT OF HIS EARLY LIFE—A CHRISTIAN LADY IN KENTUCKY—A PREACHER IN A TIGHT PLACE
Not many years ago I spent a Sabbath in Springville, Erie Co., N. Y., where I met an old friend, Deacon E——, a zealous worker in the interest of the U. G. R. R.
He recalled the case of Henry Rankin, as one of the most interesting fugitives who ever came this way. Henry had been a slave in Kentucky and was a good blacksmith; his master allowed him to find work for himself by paying $30 per month for his time. His master had also agreed to emancipate Henry on the payment of $1,500 out of his extra earnings. Henry paid the stipulated sum, $30, at the close of every month, and on Christmas day he paid over to his master all the money he had left of his extra wages after paying for a good plain suit of clothes with which to commence the new year, Henry was a strong man and an excellent mechanic, and found time after the close of work hours to devote to the acquisition of an education. He became a good reader and writer, and thoroughly understood all the rules in the common arithmetic; he read his bible histories and such other useful books as he could procure.
When Henry was twenty-eight years old, he had paid nearly the whole of the stipulated sum to his master and was anxiously looking forward to the next Christmas as the day on which he was to have his free papers, but before that day the old man died, and as, by the laws of the State of Kentucky, no contract made with or by a slave was valid, the heirs refused to acknowledge Henry's claim, although he was prepared to pay the small balance due. They also seized him and sent him to the New Orleans market where such mechanics as he was would sell for from $3,000 to $5,000.
It was a hard case for poor Henry, but he never gave up the hope of obtaining his freedom, and watching his opportunity he managed to escape on a vessel, on which he had worked making repairs at New Orleans. When the ship was in the Gulf of Mexico, four or five days out, he was discovered on board. The captain and crew respected him for his industry and good behavior as well as for his excellent workmanship as a mechanic; therefore they did not betray him at Baltimore where they landed him, but gave him as good counsel as they could in relation to his best route to Canada. He had some money, and providing himself with a pass written by himself, he left Baltimore and traveled sometimes in the day and sometimes in the night until he came into this State, near Bradford, Pa. Passing the
Download


Copyright Disclaimer:
This site does not store any files on its server. We only index and link to content provided by other sites. Please contact the content providers to delete copyright contents if any and email us, we'll remove relevant links or contents immediately.