The Great Book of American Heroes by O'Neill Bill
Author:O'Neill, Bill , Date: March 19, 2021 ,Views: 95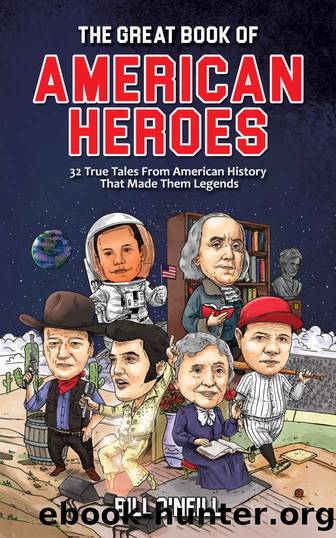 Author:O'Neill, Bill
Language: eng
Format: epub
Published: 2020-07-26T16:00:00+00:00



George Washington
America's First and Foremost Hero
A book about great American heroes wouldn't be complete without a chapter dedicated to the first hero, George Washington. Even Americans who are extremely lacking in knowledge of their country's history know a little about Washington. Most can say with confidence that he was the United States' first president.
Plus, there are plenty of reminders of Washington's greatness, in case you somehow forget about his role in this nation's creation. There is the Washington monument in the capital city of the United States, which bears the man's name, Washington! And, of course, Washington's image adorns the most common paper currency bill in the United States and also the 25-cent coin.
Washington's image has also been on numerous stamps. He has had colleges and cities named after him and even one state. Truly, you don't have to look far to find George Washington's influence in the United States. It is equally clear that the American people still venerate the first president.
And a brief look at Washington's life shows that he deserves that veneration.
Although born to privilege, Washington never used his position, as many would've at the time. Instead, he proved himself among his peers and the American people through action and deeds. He rose through the ranks of the Colonial American Army to become the commander-in-chief of the Continental Army, where he led America to victory on the battlefield.
After America gained its independence, he became the first President of the United States of America. In a feat that has not since been replicated, he left office just as popular as when he was first elected. For his service on the battlefield and in the halls of government, George Washington earned the moniker, the Father of the Country, which makes him America's first hero.
Download


Copyright Disclaimer:
This site does not store any files on its server. We only index and link to content provided by other sites. Please contact the content providers to delete copyright contents if any and email us, we'll remove relevant links or contents immediately.