The Last Mrs. Summers by Rhys Bowen
Author:Rhys Bowen [Bowen, Rhys] , Date: August 10, 2020 ,Views: 410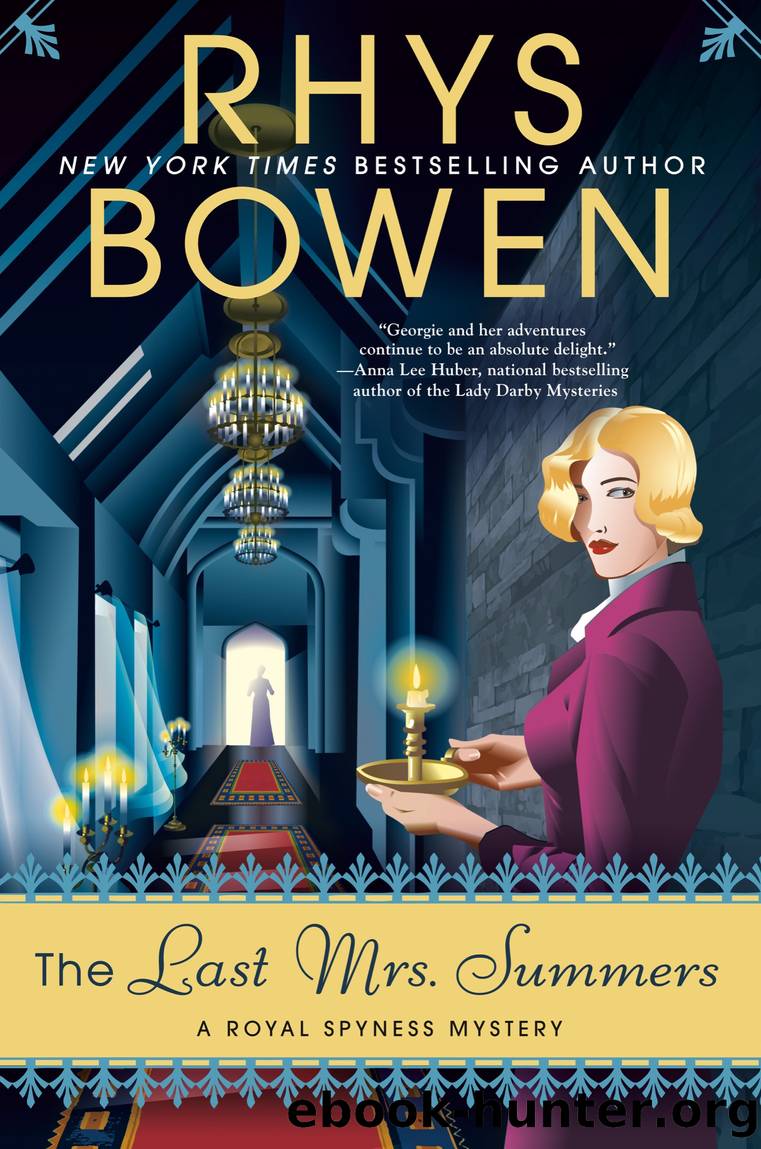 Author:Rhys Bowen [Bowen, Rhys]
Language: eng
Format: epub
Publisher: Penguin Publishing Group
Published: 2020-08-03T16:00:00+00:00



Chapter 17
NOW EARLY MORNING, FRIDAY, OCTOBER 18
TREWOMA
Oh gosh, something absolutely awful has happened and everyone thinks it's poor Belinda. I've promised I'll help her but I don't know how. Who wanted to kill Tony? And harm Belinda too, because the scene was clearly set up to make her appear guilty. I do hope it is her uncle Francis because that would sew it all up so neatly, and, besides, I don't think he's a very nice person. I hope the inspector is not one of the bumbling sort.
I had crept into bed beside Belinda and we lay, side by side, staring at the ceiling, neither of us either willing or able to sleep until we heard a loud knocking at the front door. Then there were voices echoing up from the foyer.
"Powerful beastly night, ain't it, sir?" came the constable's voice. "Sorry to have called you out, but you'll see for yourself."
"This had better be good," the new, sharper male voice was saying. "You know what people are like at these posh houses. They think it's a tremendous joke to play pranks on poor stupid policemen like us. Are you sure they didn't stage a murder just for their own amusement? If I hear a background of chuckles, you're going to be in a lot of trouble, Hood."
"Oh no, sir, I can assure you nobody here was doing any chuckling," the constable's voice replied. "And I think I know a dead body when I see one."
"All right, lead on. Which room is it in?"
My curiosity got the better of me. I slipped out of bed and opened my door just enough to peek out. The newly arrived inspector was a much younger man but life had not been kind to him. Either that or he had spent the evening being rather too merry at the local pub. He had large bags under his eyes and he was scowling as if it was an effort to see. His sandy hair was already thinning on top. Not an encouraging sight.
"The next room on your right, sir," Constable Hood said and started to push the door open for him.
"Don't touch the door, man," the inspector barked. "There might be valuable fingerprints on it."
"I expect there will be if people have gone in and out over the last hundred years," the constable said with a chuckle. The inspector was not amused.
At that moment Mrs. Mannering came rushing down the hallway toward the two men. I stepped back hastily into my room as she went past.
"Inspector Purdy. How good of you to come at this time of night," she said. "I am Mrs. Mannering, the housekeeper. I'm afraid Mrs. Summers was so overwrought at the death of her husband that I gave her a sleeping powder. But I will be of assistance in any way I can."
"I don't need assistance, thank you, madam. But I hope you've made sure that any evidence has not been tampered with?"
"Oh yes. Indeed I did. Nobody has entered that room since the young woman was found holding the murder weapon.
Download


Copyright Disclaimer:
This site does not store any files on its server. We only index and link to content provided by other sites. Please contact the content providers to delete copyright contents if any and email us, we'll remove relevant links or contents immediately.