Echo by Seven Rue
Author:Seven Rue , Date: August 25, 2020 ,Views: 1531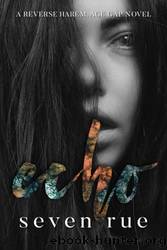 Author:Seven Rue
Language: eng
Format: mobi
Published: 2020-08-04T04:00:00+00:00



I woke up alone in Summit's bed, but I could hear noises coming from outside.
I didn't know whose turn it was to go hunt today, but whoever stayed here was working hard already.
Getting out of bed and stretching, I walked out of the bedroom to be greeted by Kodiak who was standing in the middle of the hallway with his tennis ball in his mouth.
Tilting my head, I wondered how long he had been standing there for, and to not upset him, I carefully held out my hand for him to drop the ball in.
He moved his head forward, and without closing the space between us, he let the ball fall into my hand.
The moment I lifted it, he stood on all four paws and wagged his tail, and I carefully threw the ball into the living room toward the couch where it landed.
To avoid playing with him more, I quickly walked over to the front door, pulling it open wider and looking outside to the guys' vehicle.
Willem was standing next to the bed of the truck, but I couldn't see what he was doing exactly.
I couldn't get his attention without making any noise, and as I was about to knock on the wood of the cabin, Kodiak ran past me to get to his owner.
"Slow down, buddy," he muttered, then turned to look at me after noticing me standing there.
"Morning, gorgeous. Sleep well?" he asked, placing whatever he was holding back onto the bed and walking over to me.
I nodded, waiting for him to reach me to wrap my arms around his neck and press my body against his.
Once his arms were around my back, I eased into him and closed my eyes, enjoying the few sunrays peeking through the trees and hitting my face.
I hadn't been out in the sun a lot, and in Alaska, even though the sun shone, it wasn't very warm.
My freckles used to stand out when I was little, but as years passed, I started to avoid the outside, and I never gave them a chance to show up again.
Not that they disappeared when they weren't exposed to the sun.
They were faint.
But maybe this year I could make them appear more vibrant.
Willem's hand brushed the back of my head, and with his other, he held me tightly against him.
"Are you hungry? I can make you some eggs and waffles if you'd like," he suggested, but I shook my head and leaned back to look into his eyes.
Shit, my board was inside.
I pointed at my chest, letting him know that I could make my own breakfast.
Luckily, he understood.
"You sure? I don't mind putting work aside for a few minutes and sitting at the table with you."
I shook my head again, not wanting him to stop working.
I knew how to make my own breakfast.
"Fine. I'll be out here if you need me," he said, then placed a kiss to my forehead before loosening his arms around me.
I walked back inside and straight to the kitchen, and
Download


Copyright Disclaimer:
This site does not store any files on its server. We only index and link to content provided by other sites. Please contact the content providers to delete copyright contents if any and email us, we'll remove relevant links or contents immediately.