It Ends With Us: A Novel by Colleen Hoover
Author:Colleen Hoover , Date: February 23, 2021 ,Views: 3735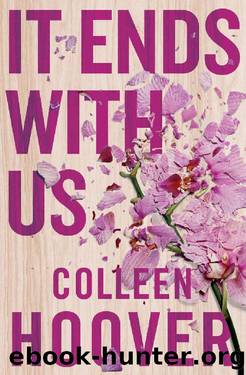 Author:Colleen Hoover
Language: eng
Format: epub
Tags: Fiction, Romance, General, Contemporary, New Adult, Contemporary Women
ISBN: 9781501110368
Google: Eka9DAAAQBAJ
Publisher: Simon and Schuster
Published: 2016-08-02T11:10:52.793858+00:00



Chapter Fifteen
I arrive at the restaurant fifteen minutes late. Right when I was about to close tonight I had a customer come in to order flowers for a funeral. I couldn't turn them away because . . . sadly . . . funerals are the best business for florists.
Ryle waves me over to the table and I walk straight to them, doing my best not to look around. I don't want to see Atlas. I tried twice to get them to change the restaurant location, but Allysa was hell-bent on eating here after Ryle told her how good it was.
I slide into the booth and Ryle leans over and kisses me on the cheek. "Hey, girlfriend."
Allysa groans. "God, you guys are so cute, it's sickening." I smile at her, and her eyes immediately go to the corner of my eye. It doesn't look as bad as I thought it might today, which is probably due to Ryle forcing me to keep ice on it. "Oh my God," Allysa says. "Ryle told me what happened but I didn't think it was that bad."
I glance at Ryle, wondering what he told her. The truth? He smiles and says, "Olive oil was everywhere. When she slipped, it was so graceful you'd think she was a ballerina."
A lie.
Fair enough. I would have done the same thing.
"It was pretty pathetic," I say with a laugh.
Somehow, we get through dinner without a hitch. No sign of Atlas, no thoughts of last night, and Ryle and I both avoid the wine. After we're finished with our food, our waiter approaches the table. "Care for dessert?" he asks.
I shake my head, but Allysa perks up. "What do you have?"
Marshall looks just as interested. "We're eating for two, so we'll take anything chocolate," he says.
The waiter nods, and when he walks away, Allysa looks at Marshall. "This baby is the size of a bedbug right now. You better not encourage bad habits for the next several months."
The waiter returns with a dessert cart. "The chef gives all expectant mothers dessert on the house," he says. "Congratulations."
"He does?" Allysa says, perking up.
"Guess that's why it's called Bib's," Marshall says. "Chef likes the babies."
We all look at the cart. "Oh, God," I say, looking at the options.
"This is my new favorite restaurant," Allysa says.
We pick out three desserts for the table. The four of us spend the time waiting for it to be served discussing baby names.
"No," Allysa says to Marshall. "We're not naming this baby after a state."
"But I love Nebraska," he whines. "Idaho?"
Allysa drops her head in her hands. "This is going to be the demise of our marriage."
"Demise," Marshall says. "That's actually a good name."
Marshall's murder is thwarted by the arrival of dessert. Our waiter places a piece of chocolate cake in front of Allysa, and steps aside to make room for the waiter behind him who is holding the other two desserts. The waiter motions toward the guy placing our desserts down and says, "The chef would like to extend his congratulations.
Download


Copyright Disclaimer:
This site does not store any files on its server. We only index and link to content provided by other sites. Please contact the content providers to delete copyright contents if any and email us, we'll remove relevant links or contents immediately.