Win by Harlan Coben
Author:Harlan Coben [Coben, Harlan] , Date: March 19, 2021 ,Views: 1715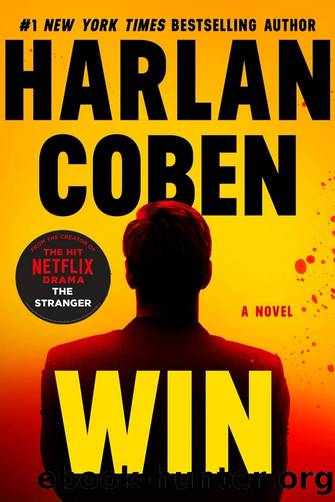 Author:Harlan Coben [Coben, Harlan]
Language: eng
Format: epub, mobi
Tags: Mystery, Thriller, Suspense, Adult
ISBN: 9781538748213
Google: rKGSzQEACAAJ
Amazon: B089Q37QPL
Goodreads: 53916157
Publisher: Grand Central Publishing
Published: 2021-03-15T05:00:00+00:00



Jessica wants to walk home alone. I don't insist otherwise. In fact, even though the car is waiting for me, I choose to do the same. She heads south. I head west and start crossing Central Park by the Sixty-Sixth Street transverse. It's a beautiful night and it's a beautiful park and the walk soothes me for perhaps three minutes—until my phone buzzes. The call is coming from Sadie Fisher's iPhone.
I have a bad feeling about this.
Before I have a chance to offer up my customary greeting, Sadie half snaps, "Where are you?"
I do not like the timbre in her voice. There is anger. And there is fear.
"I'm strolling through Central Park. Is there a problem?"
"There is. I'm at the office. Get here as soon as you can."
She disconnects the call.
I find a taxi heading south on Central Park West. Traffic is light at this hour. Ten minutes later I'm back at the Lock-Horne Building on Park Avenue. Jim is working security at the desk. I nod at him and head toward my private elevator. It's getting late now, north of ten p.m., but this building is filled mostly with financial advisors of one kind or another, many of whom need to work hours that coincide with overseas markets, many more of whom put in wastefully long hours to match the other guy vying for the same promotion. I press the button for the fourth floor, and especially tonight, with a few drinks in me, with images of Jessica Culver still swimming in my head, the memories of MB Reps—the M stood for Myron, the B for Bolitar, Myron would self-flagellate over the name's lack of ingenuity—swirl though my skull.
Sadie greets me when I get off the elevator, though "greet" may imply a temperament that is not at all apropos. "What did you do, Win?"
"Nice to see you too, Sadie."
She adjusts her glasses. It feels as though she is doing that more as a statement than a need, but whatever gets you through the night. "Do I really look in the mood?"
"Why don't you tell me what's wrong?"
Sadie steps into her office. I notice that Taft's reception desk is empty except for a box of his belongings. Sadie sees me noticing and arches an eyebrow.
"I had visitors today."
"Oh?"
"They braced me out on the street. Two huge guys."
I wait.
"What did you do, Win?"
"Who were they?"
"Teddy Lyons's brothers."
I wait.
"Win?"
"Did they threaten you?"
"Well, they didn't want to buy me a drink."
"What did they say?"
"They accused me of sending a man to hurt Teddy."
"What did you say?"
"What do you think I said?"
"That you didn't." Then I ask, "Did they believe you?"
"No, Win, they didn't believe me." She moves closer to me. "You were at that basketball game."
"So were seventy thousand other people."
"Are you really going to lie to me?"
"What exactly do you think I did, Sadie?"
"That's what I'm asking."
"It has nothing to do with you."
"No, Win, that isn't true." Sadie gestures to the empty desk. "Taft told you what Teddy Lyons did to Sharyn, didn't he?"
"As did you.
Download


Copyright Disclaimer:
This site does not store any files on its server. We only index and link to content provided by other sites. Please contact the content providers to delete copyright contents if any and email us, we'll remove relevant links or contents immediately.