Den of Vipers by K.A Knight
Author:K.A Knight [Knight, K.A] , Date: August 20, 2020 ,Views: 1668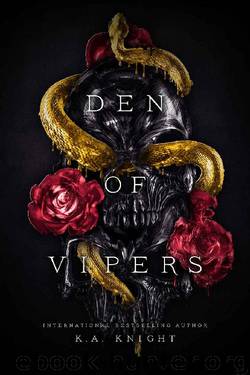 Author:K.A Knight [Knight, K.A]
Language: eng
Format: epub
Published: 2020-07-09T16:00:00+00:00



She lives in the moment. Roxy was never made for that life, she was just waiting until we found her. I'm only sorry it took so long. She belongs in our world, she shook it up and made us realise we were losing ourselves.
With her, I'm myself.
With her, I'm happy.
And now I'm going to take her to the one place I never take anyone. No riches, no clubs, or games. Just a place I go to escape it all sometimes, a place I don't even tell Ryder I visit. It would make me sentimental, but it helps me too.
We drive through the city, but leave the music and lights behind. I know she's wondering where we're going, but I can't bring myself to speak, even as we pull up at the cemetery. She gets out, and I silently take her hand and unlock the gate. I can feel her staring at me, but I walk with her silently down the path, finding the grave I want near the back. It's away from others, with a huge angel reaching into the sky and a bench before it. I sit, and so does Roxy, her hand still in mine, her shoulder pressing against me as she undoubtedly reads the stone.
My mother's.
"She wasn't a bad woman, she loved us deeply. I think Ryder forgets that sometimes. He did pay for this, though, to look after her in death. I come here a lot to speak to her, to feel close to her. To never forget where we come from and the strength of love and bonds," I whisper into the dark.
"Kenzo," she whispers, pressing closer.
"She would have loved you, you know?" I grin. I used to find sadness here, but not now. I find it peaceful, my escape. I miss her, I always will, but she wasn't made for this world. Too soft, too loving, too caring. My father destroyed it all. I will never let Ryder become that. He protects us, and I keep him humble…well, I try.
"You think?" she queries, seeming surprised. "I'm not exactly…on your level, babe."
I snort. "She came from the streets. I guess I never told you that. She ran away from her father at fifteen after he raped her one too many times. She told me once when I was upset about my father, and I didn't understand why she stayed." She presses closer still, as if her presence can ward off the bad memories.
"He found her on the streets, saw her beauty. He lavished her with money and gifts at first, protecting her like no one else ever had. That's why she stayed at first, darling, to be safe. Then, she remained because of us. She might have been weak, but she was also strong, so strong, because she stayed in a monster's lair to protect us, to love us, even when it led to her death," I whisper. Roxy sighs, and when I look over, there are tears in her eyes. "Roxy, she was strong, and so are you.
Download


Copyright Disclaimer:
This site does not store any files on its server. We only index and link to content provided by other sites. Please contact the content providers to delete copyright contents if any and email us, we'll remove relevant links or contents immediately.