The Midwife Murders by James Patterson
Author:James Patterson [Patterson, James] , Date: August 7, 2020 ,Views: 997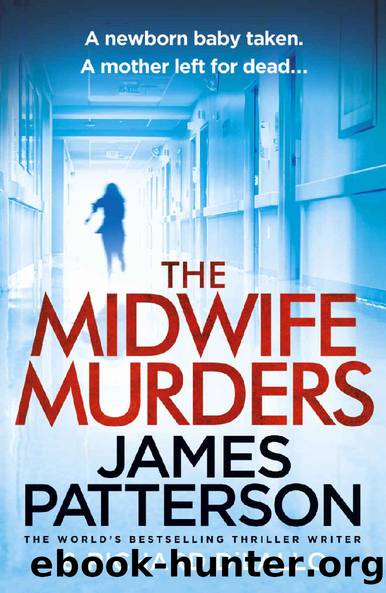 Author:James Patterson [Patterson, James]
Language: eng
Format: epub, mobi
ISBN: 9781473563155
Publisher: Random House
Published: 2020-08-05T18:30:00+00:00



CHAPTER 44
THERE'S QUITE A BIT of negotiating to do with my family in West Virginia before I can return to New York.
First hurdle: persuading Willie and Cabot to cancel another round of miniature golf so we can drive the hour-plus back to my parents' house and then begin the trip back to New York. I'm successful getting them off the "course" only because I promise that the next time we visit Walkers Pasture they can play at least three rounds of golf.
Yes, I know this basic bribery is not the correct way to raise good children. But I don't think it's going to ruin Willie's future.
Second hurdle: Mom suggests I can go back to New York whenever I want, but Willie should stay down in Walkers Pasture, West Virginia, with her and Daddy and Cabot for another day, as originally planned. I am utterly opposed. Adamantly opposed. So we have an impromptu family meeting in the living room. Family meeting has always been a euphemism in our house for group argument. We make believe we are the kind of family that always has family meetings; we most certainly are not.
We take our places on the sectional sofa. Mom serves red Kool-Aid in plastic cups. Even Daddy seems attentive to the goings-on.
My first gambit falls flat on its face: "We were planning to leave tomorrow anyway, Willie."
Willie says, "Yeah, I know, but now I can stay longer and then take the train back to New York. Grandma said so."
So much for that, Lucy. Nice try.
"What about your friend Devan, Willie? He'll be lost without you."
"No way. He doesn't care. Devan has plenty of bigger kids to hang with. He actually prefers all those big dudes. Devan will not be lost without me," says Willie. I'm afraid Willie's right about that.
"What about Sabryna's new baby? Don't you want to see her?" It dawns on me that I do not know Val's baby's name. When we filled out the million forms, we used the phrase "Baby Girl Gomez."
Willie says, "Oh, c'mon, Mom. The baby?" He shrugs and looks up at his uncle.
Cabot looks at me and says, "Oh, c'mon, Mom. The baby?"
And speaking of moms, mine says, "Well, it seems to me that this meeting has hit a little bit of a snag. Come into the kitchen, Lucy honey. You can help me make some sandwiches for your road trip."
Of course I know what she's about to say. But of course I follow her into the kitchen.
"I know why you're fretting, and I don't blame you," she says. "You don't want Willie spending so much time with Cabot."
"Bingo!" I say.
"You know they won't ever go three feet out of my eyesight," she says.
"That's good to know, because Balboa Littlefield's car is parked only a hundred feet away."
"Oh, don't be such a Little Miss Worry Wart," she says. "Tomorrow we'll all drive to Pittsburgh and send Willie home."
"You know I love Cab," I say. "But I'm just afraid he'll be a bad influence on Willie.
Download


Copyright Disclaimer:
This site does not store any files on its server. We only index and link to content provided by other sites. Please contact the content providers to delete copyright contents if any and email us, we'll remove relevant links or contents immediately.