The Empath's Survival Guide by Judith Orloff
Author:Judith Orloff , Date: September 13, 2017 ,Views: 1451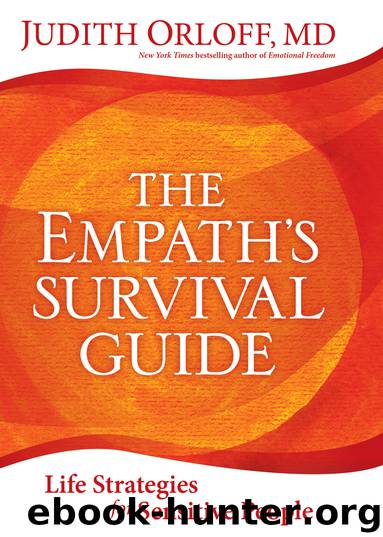 Author:Judith Orloff
Language: eng
Format: epub, mobi
Publisher: Sounds True



2.Remember to breathe. Rushing causes us to hold our breath or to breathe shallowly, which traps tension in the body. Throughout your busy day, program yourself to take at least one conscious deep breath periodically to release tension. You might want to set the timer on your phone to remind you.
3.Create alone time. To counter the demands of raising children, empaths must schedule at least a few minutes alone each day to recharge. Spend some time in nature if you can or in a sacred space at home. A five-minute timeout in the bathroom or closet (if those are your only places of refuge) may be all you need. If you have a partner who is available, they can watch the kids. Otherwise, you can enjoy time alone when your child is napping, away on a playdate, or maybe at soccer practice. If it's safe to leave your school-age children alone briefly, close your bedroom door and shut your eyes for the simple pleasure of slowing down.
One friend started a babysitting co-op. She and a neighbor traded taking care of each other's children so that each mom could have a free afternoon once a week.
It's good role modeling to say to your children, "I need some alone time." Since your kids want your attention, they might be momentarily upset, but it nourishes them and you to care for your own energy. You'll be a less irritable parent. One empath mom told me, "The best thing I can give my daughter is me being happy. When I have time to myself, I can be a better mom."
If you're lucky enough to have loved ones who can watch the kids, taking miniretreats away is wonderful. After fourteen years of marriage, one empath and mother of two girls in middle school finally took herself to a hotel for a weekend. "No spiritual conferences to attend," she said, "There was just time to be by myself and write because I had forgotten the sound of my own inner voice."
Download


Copyright Disclaimer:
This site does not store any files on its server. We only index and link to content provided by other sites. Please contact the content providers to delete copyright contents if any and email us, we'll remove relevant links or contents immediately.