The Coming Storm by Nigel McCrery
Author:Nigel McCrery , Date: December 3, 2017 ,Views: 612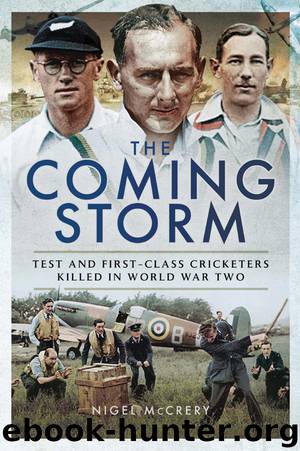 Author:Nigel McCrery
Language: eng
Format: epub
Tags: BIOGRAPHY & AUTOBIOGRAPHY / Military
ISBN: 9781526706973
Publisher: Pen and Sword
Published: 2017-07-30T04:00:00+00:00



Bowling averages
Grove can be seen on the first row of adults, fourth from the right wearing a white jacket.
Flight Lieutenant Frederick Gerald Hudson Chalk DFC
Oxford University, Kent, Gentlemen, MCC, England XI, Sir
P.F. Warner's XI, Gentlemen of England
156 first-class matches
Honourable Artillery Company/124 Squadron RAF
Died 17 February 1943, aged 32
Right-handed bat
'batted and fielded so brilliantly that he became an attractive figure whenever he played'
Gerald Chalk was born on 7 September 1910 in Sydenham. Son of Arthur and Edith Blanche Clarissa Chalk of Cooden Beach, East Sussex. He was educated at Uppingham where he was quickly in the first XI. He played against Haileybury, Repton, Rugby and Shrewsbury, as well as representing W.D. Johnson's XI against Oakham. In 1928 he headed his school averages with 44.
Leaving Uppingham he went up to Brasenose Oxford, winning his cricket blue as a freshman in 1931. Chalk went on to make an impressive 156 first-class appearances. He made his first-class debut for Oxford University against Kent on 9 May 1931 at the University Parks. Oxford won the toss and decided to bat making 297. Chalk made 31 before being bowled by the England test cricketer Alfred Percy 'Tich' Freeman (Wisden cricketer of the year 1923). Freeman took eight wickets for 99 during the innings. The Oxford opener Brian William Hone made 105. In reply Kent made 486. Although three players, Ashdown, Woolley and Todd, got into the nineties, no-one managed a century. In their second innings Oxford made 280, Chalk making 59, the highest score of the innings, before being lbw to Freeman. Once again Freeman was deadly, taking five more wickets during the innings and reaching 2,450 wickets taken in first-class matches. In their second innings Kent made 92 without losing a wicket. Chalk bowled four overs for 19 runs and failed to take a wicket. Kent won by ten wickets.
Chalk continued to play for Oxford University until 1934, captaining the side in the same year. He made his final appearance for Oxford against Cambridge on 9 July 1934 at Lord's. Oxford won the toss and decided to bat making 415. Chalk made a brilliant 108 before being bowled by Jack Davies, who also took five wickets for 43 during the innings. The England test cricketer David Townsend made 193. In reply Cambridge made 400, Anthony William Allen making 115. In their second innings Oxford made 182, Chalk making 12 before being caught by Allen off the bowling of James Grimshaw. In their second innings Cambridge made 94 for two. The match was drawn.
Chalk began playing for Kent in 1933. He made his debut for them against Surrey on 15 July 1933 while on holiday from Oxford at the Rectory Field, Blackheath. Kent won the toss and decided to bat making 251, the England test cricketer Alfred Gover taking six wickets for 82. In reply Surrey made 261, the England test cricketer Jack Berry Hobbs (Wisden cricketer of the year 1909 and 1926) making 101. Freeman took six wickets for 110. In their second innings Kent made 377, Chalk who opened for them only making one before being bowled by Frederick Charles Gamble.
Download


Copyright Disclaimer:
This site does not store any files on its server. We only index and link to content provided by other sites. Please contact the content providers to delete copyright contents if any and email us, we'll remove relevant links or contents immediately.