The Cantata of Love : A Verse by Verse Reading of The Song of Songs by Arminjon Fr. Blaise
Author:Arminjon, Fr. Blaise [Arminjon, Fr. Blaise] , Date: July 25, 2020 ,Views: 105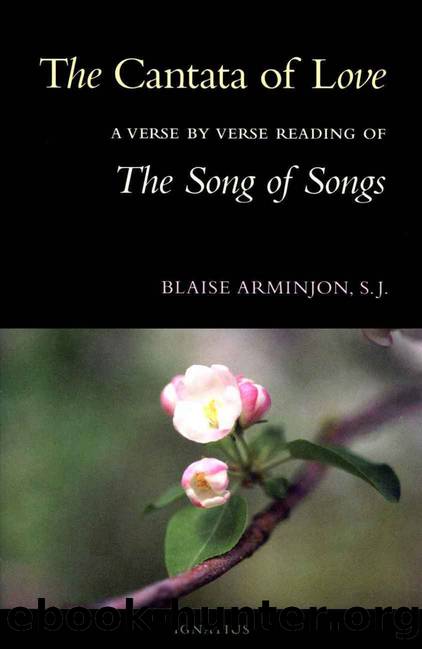 Author:Arminjon, Fr. Blaise [Arminjon, Fr. Blaise]
Language: eng
Format: epub
Publisher: Ignatius Press
Published: 1988-09-30T16:00:00+00:00



The Summer of the Wedding
THIRD POEM
Chapters 3:6-5:1
THE CHORUS
What is this coming up from the desert
like a column of smoke ,
breathing of myrrh and frankincense
and every perfume the merchant knows ?
See, it is the litter of Solomon .
Around it are sixty champions ,
the flower of the warriors of Israel ;
all of them skilled swordsmen ,
veterans of battle .
Each man has his sword at his side ,
against alarms by night .
King Solomon
has made himself a throne
of wood from Lebanon .
The posts he has made of silver ,
the canopy of gold ,
the seat of purple ;
the back is inlaid with ebony .
Daughters of Zion ,
come and see
King Solomon ,
wearing the diadem with which his mother crowned him
on his wedding day ,
on the day of his heart's joy .
THE BRIDEGROOM
How beautiful you are, my love ,
how beautiful you are!
Your eyes, behind your veil ,
are doves ;
your hair is like a flock of goats
frisking down the slopes of Gilead .
Your teeth are like a flock of shorn ewes
as they come up from the washing .
Each one has its twin ,
not one unpaired with another .
Your lips are a scarlet thread
and your words enchanting .
Your cheeks, behind your veil ,
are halves of pomegranate .
Your neck is the tower of David
built as a fortress ,
hung around with a thousand bucklers ,
and each the shield of a hero .
Your two breasts are two fawns ,
twins of a gazelle ,
that feed among the lilies .
Before the dawn wind rises ,
before the shadows flee ,
I will go to the mountain of myrrh ,
to the hill of frankincense .
You are wholly beautiful, my love ,
and without a blemish .
Come from Lebanon, my promised bride ,
come from Lebanon, come on your way .
Lower your gaze, from the heights of Amana ,
from the crests of Senir and Hermon ,
the haunt of lions ,
the mountains of leopards .
You ravish my heart ,
my sister, my promised bride ,
you ravish my heart
with a single one of your glances ,
with one single pearl of your necklace .
What spells lie in your love ,
my sister, my promised bride!
How delicious is your love, more delicious than wine!
How fragrant your perfumes ,
more fragrant than all other spices!
Your lips, my promised one ,
distill wild honey .
Honey and milk
are under your tongue ;
and the scent of your garments
is like the scent of Lebanon .
She is a garden enclosed ,
my sister, my promised bride ;
a garden enclosed ,
a sealed fountain .
Your shoots form an orchard of pomegranate trees ,
the rarest essences are yours :
nard and saffron ,
calamus and cinnamon ,
with all the incense-bearing trees ;
myrrh and aloes ,
with the subtlest odors .
Fountain that makes the garden fertile ,
well of living water ,
streams flowing down from Lebanon .
THE BRIDE
Awake, north wind ,
come, wind of the south!
Breathe over my garden ,
to spread its sweet smell around .
Let my Beloved come into his garden ,
let him taste its rarest fruits .
THE BRIDEGROOM
I come into my garden ,
my sister, my promised bride ,
I gather my myrrh and balsam ,
I eat my honey and my honeycomb ,
I drink my wine and my milk .
Download


Copyright Disclaimer:
This site does not store any files on its server. We only index and link to content provided by other sites. Please contact the content providers to delete copyright contents if any and email us, we'll remove relevant links or contents immediately.