The Advantage by Lencioni Patrick M
Author:Lencioni, Patrick M. , Date: March 26, 2014 ,Views: 647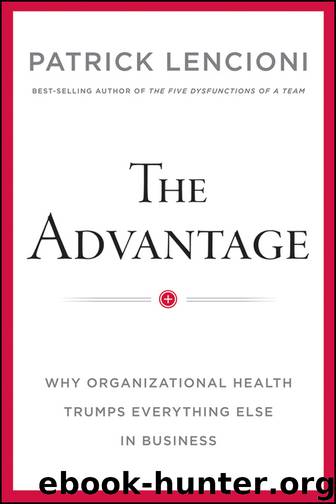 Author:Lencioni, Patrick M.
Language: eng
Format: epub
Publisher: John Wiley & Sons
Published: 2012-02-05T16:00:00+00:00



Permission-to-Play Values
These values are the minimum behavioral standards that are required in an organization. Although they are extremely important, permission-to-play values don't serve to clearly define or differentiate an organization from others. Values that commonly fit into this category include honesty, integrity, and respect for others. If those sound generic, something you've seen on virtually all of the values statements plastered on the walls of every mediocre company you've ever visited, then you understand the problem. Permission-to-play values must be delineated from the core to avoid dilution and genericism (I don't think that's a word, but you get the point).
Integrity About Integrity
An executive team at a technology start-up we worked with insisted that integrity was a core value of their company (many of our clients do this).
They justified this by explaining that they would never hire someone who lied during an interview or put false information on a résumé. We explained that most organizations had similar policies and that unless they were willing to adopt clearly higher standards for integrity than most other companies, and then stand by those standards even in the face of serious market pressure, they should classify integrity as a permission-to-play value.
They initially refused, saying, "But if we don't have integrity as one of our core values, then people will think we don't care about it."
During a subsequent meeting, executives discussed the possibility of doing some competitive intelligence gathering in a manner that could easily appear to be unethical to some people. We reminded them about their insistence on including integrity as a core value. They relented and reclassified it as permission-to-play.
Download


Copyright Disclaimer:
This site does not store any files on its server. We only index and link to content provided by other sites. Please contact the content providers to delete copyright contents if any and email us, we'll remove relevant links or contents immediately.