I Live in the Future & Here's How It Works by Nick Bilton
Author:Nick Bilton [Bilton, Nick] , Date: May 7, 2014 ,Views: 2161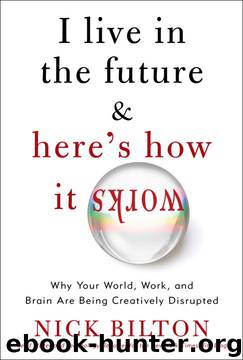 Author:Nick Bilton [Bilton, Nick]
Language: eng
Format: epub
ISBN: 978-0-307-59113-5
Publisher: Crown Publishing Group
Published: 2010-09-13T16:00:00+00:00



For More Details, Click Here …
What happens when we're online that keeps the brain so busy?
The online experience isn't simple or controlled; it's like the Wild West. The user interface alone is enough to send you running for the comfort of the printed page. Every last piece of real estate on the screen is vying for your attention. Your Web browser has back buttons, reload buttons, and a bright red stop button that screams, "Hey, look at me!" Other windows may be floating in the background of your computer screen. You probably have a desktop image of your cats or a cute baby.
Then there's the actual Web page, which includes eye-popping banner ads, search boxes, logos, and colored text showing you links to other Web pages, which then link to even more Web pages. In the course of a day, you might go to a few news websites, read a blog or two, look at the weather, search Google for a range of answers, and buy a book on Amazon or eBay. Before you know it, you may have visited well over a hundred Web pages in a day. That may not seem like a lot, but the amount of content you see can be mind-boggling.
In research at the New York Times labs, we found that on average, each Web page in the top 100 most-visited news and information sites and blogs online has about 370 links; some have more, some a little less. So if you were to visit the home page of each of those top websites in one day, you would have faced more than 37,000 links.
It can be completely overwhelming for our brains to navigate the Web. No wonder Small's study said a book is sometimes less stimulating than the Internet. The Web is vying for our attention constantly.
Although our anchoring and trust communities help us determine where to go and what we can trust, the links also help us navigate the trails. Imagine what it's like when you walk into a large bookstore like a Barnes & Noble. You will see thousands of books displayed on the store's shelves. All around, there are filters to help you find where you want to browse and what you want to buy. Books are organized by subject matter. There are recommendation tables organized to help you find specific genres. There are top ten lists, top fiction lists, employee recommendations, New York Times bestsellers. Or you can base your decision about what to read on a friend or coworker's suggestion.
The Web eventually will get to this place, too, and once again, history can show us the way. A front page of the New York Times a hundred years ago was a messy cacophony of more than sixty headlines and stories. Today's paper has a grand total of six stories. You would think that over a hundred years, during a time when content creation has essentially exploded into trillions of little bits of information, the newspaper would stuff in more stories and headlines.
Download


Copyright Disclaimer:
This site does not store any files on its server. We only index and link to content provided by other sites. Please contact the content providers to delete copyright contents if any and email us, we'll remove relevant links or contents immediately.