T is for Transformation by Shaun T
Author:Shaun T , Date: November 13, 2017 ,Views: 2058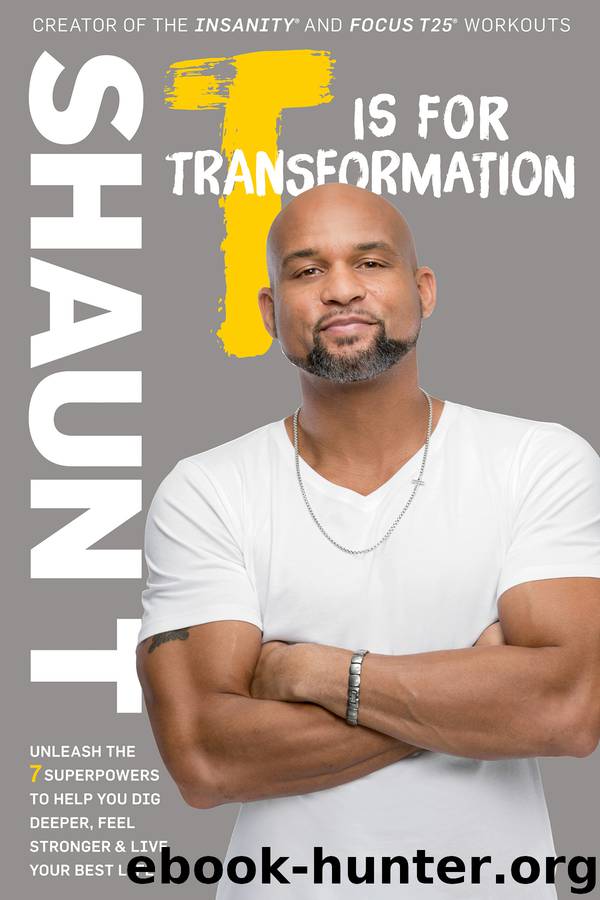 Author:Shaun T
Language: eng
Format: epub
Publisher: Rodale Inc.
Published: 2017-11-13T05:00:00+00:00



It's never about the workout itself. It's about what drives you to press play, and how you feel afterward. And, more generally, how you respond when you're faced with something really difficult. When you hear me say, "The work doesn't begin until you get tired," I could be talking about any kind of work.
The work you do when you reach out to a difficult person in your life.
The work you do when you try to master a new skill.
The work you do when you look for a job that will call on more of your capabilities.
When you get exhausted from any of that, and then find the will to push through, that's when great things happen for you.
I wish more people would go into the next step in their journeys—fitness or otherwise—without putting unreasonable pressure on themselves.
Not expecting success.
Not fearing failure.
Not stressing out.
Just being you, and moving forward.
That's difficult for people, especially with a fitness program.
Most people are trying to do two things: First, trying to achieve an unrealistic goal they set for themselves. Like: "I want to get back to where I was in high school." They also start comparing themselves to different people. "I want to look like that girl in the front row of my fitness class," or "I want Jennifer Lopez's booty."
And, while it is a wonder of nature, you need to leave Jennifer's booty alone! When you see it on a magazine, it has probably been airbrushed to perfection!
Forget about time-traveling back to who you were in high school. That person ain't coming back. And thank goodness for that, because you don't want that big hair anymore, anyway.
When you start a fitness journey—or any journey, really—the thing you say on the very first step should be, "I'll do the best I can at this moment, and see how that feels. I won't worry about the person next to me because they have different parents, they have a different metabolism, they have different stresses. I focus on the body I have now because I'm a new person now, with a whole lot more life under my belt. My goal is to push myself hard in this moment and enjoy what happens next."
If you can keep the focus on your needs, how you feel before, after, and during a workout or a workday, you'll be that much further down the road to the life that works for you.
Download


Copyright Disclaimer:
This site does not store any files on its server. We only index and link to content provided by other sites. Please contact the content providers to delete copyright contents if any and email us, we'll remove relevant links or contents immediately.