Sunstorm by Arthur Charles Clarke; Stephen Baxter
Author:Arthur Charles Clarke; Stephen Baxter , Date: May 4, 2021 ,Views: 33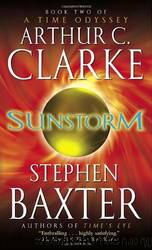 Author:Arthur Charles Clarke; Stephen Baxter
Language: eng
Format: mobi
Tags: High Tech, Space Opera, Space and time, Fiction, Science Fiction, Adventure, General
ISBN: 9780345452511
Publisher: Del Rey
Published: 2005-01-02T00:00:00+00:00



Time Odyssey 2 - Sunstorm
25: SMOKING GUN
For the reentry into Earth's atmosphere aboard the spaceplane, Nicolaus chose to sit beside Miriam. He seemed stiff and rather silent, as he had been all the way back from the shield, and indeed for much of their time up there.
But Miriam, though she knew she was exhausted on some deep level, felt good. She stretched luxuriously. The big softscreens around her showed the broad blue-gray face of Earth below, and a pink glow building up at the leading edge of Boudicca's stubby wings as they bit into the thickening air. But there was no real sense of deceleration, only the mildest of vibrations, a tickle of pressure at her chest. It was all remarkably beautiful, and comfortable. "After seven days in space I feel wonderful," she said. "I could get used to this. What a shame it's over."
"All things must end."
There was something odd in Nicolaus's tone. She looked at him, but though his posture remained stiff his face was blank. A distant alarm bell rang in her head.
She looked past Nicolaus across the narrow aisle to see Captain Purcell, who had been quiet for a while. Purcell's head was lolling like a puppet's.
Immediately she understood. "Oh, Nicolaus. What have you done?"
Download


Copyright Disclaimer:
This site does not store any files on its server. We only index and link to content provided by other sites. Please contact the content providers to delete copyright contents if any and email us, we'll remove relevant links or contents immediately.