Successful Strategies by Unknown
Author:Unknown , Date: July 20, 2020 ,Views: 593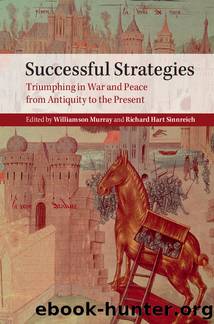 Author:Unknown
Language: eng
Format: epub
Publisher: Cambridge University Press
Published: 2014-04-27T16:00:00+00:00



Conclusion
In a poignant comment on one of his favorite historical actors, A. J. P.Taylor once remarked that historians who wrote about Bismarck always had "some political axe to grind, they were all concerned to show that he had failed or succeeded."79 It is striking that Bismarck himself took pains to forswear any explicit responsibility for the outcome of his decisions and policies. "One cannot possibly make history," he was fond of repeating, apparently without irony, to many of the admirers who sought out the great man after his retirement. At most, he would add, one might guide affairs more prudently on the basis of it. To a university delegation, he declared that "One can always learn from [history] how one should lead the political life of a great people in accordance with their development and their historical destiny." In Bismarck's cautious outlook, the constantly shifting currents of strategic affairs and the changing terms in which power is expressed render even the greatest strategic accomplishments transitory. Success in the near term may well translate into failure later, as the circumstances that contributed to the former are apt to change in ways nobody can anticipate. In a lengthy series of post-retirement interviews with Hermann Hofmann, editor of the Hamburger Nachrichten, Bismarck summed up his strategic career with characteristic modesty:
My entire life was spent gambling for high stakes with other people's money. I could never foresee with certainty whether my plans would succeed . . . Politics is a thankless job, chiefly because everything depends on chance and conjecture. One has to reckon with a series of probabilities and improbabilities and base one's plans upon this reckoning . . . As long as he lives the statesman is always unprepared. In the attainment of that for which he strives he is too dependent on the participation of others, a fluctuating and incalculable factor . . . Even after the greatest success he cannot say with certainty, "Now it is achieved; I am done with it," and look back with complacency at what has been accomplished . . . To be sure, one can bring individual matters to a conclusion, but even then there is no way of knowing what the consequences will be. He came to the conclusion that in politics there are no such things as complete certainty and definitive results . . . Everything goes continually uphill, downhill.80
Download


Copyright Disclaimer:
This site does not store any files on its server. We only index and link to content provided by other sites. Please contact the content providers to delete copyright contents if any and email us, we'll remove relevant links or contents immediately.