Shield Of Lies by Michael P. Kube-McDowell
Author:Michael P. Kube-McDowell [Kube-McDowell, Michael P.] , Date: May 6, 2021 ,Views: 58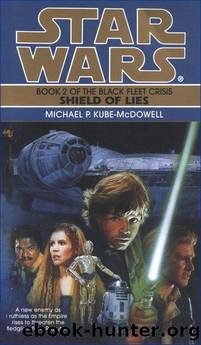 Author:Michael P. Kube-McDowell [Kube-McDowell, Michael P.]
Language: eng
Format: epub
Published: 2011-04-05T23:00:00+00:00



The narrow little stores were aggressively gaudy and loud.
Multistory display panels above their doorways graphically hawked their wares while door barkers made promises and entreaties shoppers were well advised to ignore. Every shop along the boulevard was willing to refund service fees and provide express transport to the sponsor's main location. Some sent small armies of droids out to stand outside competitors' doorsteps with even sweeter offers.
The entire purpose of Traders Plaza was to snap up as many newly arrived
"greens" as possible. Once they were safely away from competitors, they could be worked at leisure or steered to other members of a trading alliance--a scratchback, in Atzerri argot. The scratchback networks were elaborate. There was nothing a Free Trader hated more than having a willing buyer and seeing a competitor get the sale.
Luke surveyed the offerings in Traders Plaza with a mixture of wonder and horror. The last time he had been on a Free Trader world, it had been to try to buy weapons for the Rebellion, and there had been no time for browsing the commercial districts. Few of the offerings in the plaza had any appeal to him now, but his curiosity went beyond the personal.
Information brokers offered religious, political, and technical secrets. The forbidden vices of ten thousand worlds were available openly and without shame. Traders who called
themselves
facilitators
arranged
personal experiences. Embargoed technologies
were
readily
Download


Copyright Disclaimer:
This site does not store any files on its server. We only index and link to content provided by other sites. Please contact the content providers to delete copyright contents if any and email us, we'll remove relevant links or contents immediately.