Shadow 006 - The Death Tower 01-01-32, The by Maxwell Grant
Author:Maxwell Grant [Grant, Maxwell] , Date: January 26, 2015 ,Views: 357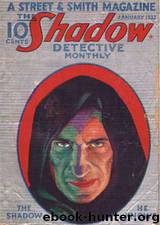 Author:Maxwell Grant [Grant, Maxwell]
Language: eng
Format: epub
Publisher: Street and Smith
Published: 0101-01-01T00:00:00+00:00



"FURTHERMORE," the physician continued, in purring tones, "The Shadow has no reason to believe that I will cease my activities on his account. He is watching for our next move - our move, Macklin, not mine alone.
"If we fail to move, he will force the issue. We are menaced, and I may state positively that you are the one who faces the first danger. If you decide to abandon me, you will place yourself in a hopeless position."
Gunner Macklin mopped his brow with a huge silk handkerchief. He was convinced that Doctor Palermo spoke the truth. His face became piteous as he gasped and looked toward the physician.
"I see that you understand now," said Palermo. "Therefore I shall tell you how to act. Have you a good safecracker you can trust?"
"Yeah. Louie Seligman. He's been layin' low. The cops don't know he's in town."
"Good. Tonight, send him to the home of Raymond Hoetzel. The address is on this paper.
"Hoetzel's home is an old house, wonderfully protected by burglar alarms. But Hoetzel, a patient of mine, told me about the system that protects the place; and later I discovered its weaknesses. This envelope contains all the instructions that Seligman will need.
"Send four gunmen with him to watch the place. Let them be on guard while Seligman cracks the safe. Be sure that they watch outside.
"Give them orders to shoot any one who tries to interfere. But do not tell them that they may be disturbed by The Shadow!"
"Right," replied Macklin. "Say, Doc, I've got a couple of Chicago gunmen who just blew into town. Looking for some real dough. How about it? Shall I put them on this?"
"Where did you meet them?" asked Palermo cautiously.
"They brought letters from Frank Margio," explained Gunner Macklin. "Chicago was too hot for them. Margio is in with the big shots out there; he's O.K."
"All right. Use them."
"What about the swag?"
"It's likely to be a good haul," replied Palermo. "Make your deal with Seligman. Pay off the gorillas. After that, it's fifty-fifty.
"If The Shadow is bumped off - well, there'll be lots for both of us after that. You must be on this job, Macklin."
"Me?" The gangster's question was uttered in a weak voice.
"Yes, you. Across the street from Hoetzel's house is an open space where a few cars are parked. Drive up in your car, and back in there.
"You can watch the front and side of Hoetzel's place. If The Shadow appears there, give him the rod. You won't be mistaken if you see him."
Macklin thrust the envelope and the addressed paper in his pocket. He rose clumsily and started from the room.
Download


Copyright Disclaimer:
This site does not store any files on its server. We only index and link to content provided by other sites. Please contact the content providers to delete copyright contents if any and email us, we'll remove relevant links or contents immediately.