Speaker for the Dead by Card Orson Scott
Author:Card, Orson Scott [Card, Orson Scott] , Date: January 21, 2018 ,Views: 1138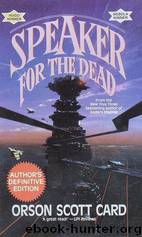 Author:Card, Orson Scott [Card, Orson Scott]
Language: eng
Format: mobi
ISBN: 0812550757
Published: 1986-06-02T05:00:00+00:00



Speaker for the Dead
12
Files
CONGRESSIONAL ORDER 1970:4:14:0001: The license of the Colony of Lusitania is revoked. All files in the colony are to be read regardless of security status; when all data is duplicated in triplicate in memory systems of the Hundred Worlds, all files on Lusitania except those directly pertaining to life support are to be locked with ultimate access.
The Governor of Lusitania is to be reclassified as a Minister of Congress, to carry out with no local discretion the orders of the Lusitanian Evacuation Oversight Committee, established in Congressional Order 1970:4:14:0002.
The starship presently in Lusitania orbit, belonging to Andrew Wiggin (occ:speak/dead,cit:earth,reg:001.1998.44-94.10045) is declared Congressional property, following the terms of the Due Compensation Act, CO 120:1:31:0019. This starship is to be used for the immediate transport of xenologers Marcos Vladimir "Miro" Ribeira von Hesse and Ouanda Qhenhatta Figueira Mucumbi to the nearest world, Trondheim, where they will be tried under Congressional Indictment by Attainder on charges of treason, malfeasance, corruption, falsification, fraud, and xenocide, under the appropriate statutes in Starways Code and Congressional Orders.
CONGRESSIONAL ORDER 1970:4:14:0002: The Colonization and Exploration Oversight Committee shall appoint not less than 5 and not more than 15 persons to form the Lusitanian Evacuation Oversight Committee.
This committee is charged with immediate acquisition and dispatch of sufficient colony ships to effect the complete evacuation of the human population of Lusitania Colony.
It shall also prepare, for Congressional approval, plans for the complete obliteration of all evidence on Lusitania of any human presence, including removal of all indigenous flora and fauna that show genetic or behavioral modification resulting from human presence.
It shall also evaluate Lusitanian compliance with Congressional Orders, and shall make recommendations from time to time concerning the need for further intervention, including the use of force, to compel obedience; or the desirability of unlocking Lusitanian files or other relief to reward Lusitanian cooperation.
CONGRESSIONAL ORDER 1970:4:14:0003: By the terms of the Secrecy Chapter of the Starways Code, these two orders and any information pertaining to them are to be kept strictly secret until all Lusitanian files have been successfully read and locked, and all necessary starships commandeered and possessed by Congressional agents.
Download


Copyright Disclaimer:
This site does not store any files on its server. We only index and link to content provided by other sites. Please contact the content providers to delete copyright contents if any and email us, we'll remove relevant links or contents immediately.