Dark Tower [1] The Gunslinger by Stephen King
Author:Stephen King [King, Stephen] , Date: January 1, 2018 ,Views: 949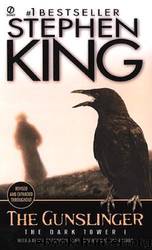 Author:Stephen King [King, Stephen]
Language: eng
Format: epub
Tags: Suspense, Horror, Fantasy, Epic, Fiction, General, Fantasy Fiction, Fantasy - General, Fiction - Fantasy, Horror Tales, Horror - General, Good and Evil, Roland (Fictitious character), Roland (Fictitious character : King), Roland (Fictitious character: King)
ISBN: 9780452284692
Publisher: PENGUIN group
Published: 2003-06-24T04:00:00+00:00



X
Roland's father was only just back from the uplands, and he looked out of place amid the drapes and the chiffon fripperies of the main receiving hall to which the boy had only lately been granted access, as a sign of his apprenticeship.
Steven Deschain was dressed in black jeans and a blue work shirt. His cloak, dusty and streaked, torn to the lining in one place, was slung carelessly over his shoulder with no regard for the way it and he clashed with the elegance of the room. He was desperately thin and the heavy handlebar mustache below his nose seemed to weight his head as he looked down at his son. The guns crisscrossed over the wings of his hips hung at the perfect angle for his hands, the worn sandalwood grips looking dull and sleepy in this languid indoor light.
"The head cook," his father said softly. "Imagine it! The tracks that were blown upland at the railhead. The dead stock in Hendrickson. And perhaps even . . . imagine! Imagine!"
He looked more closely at his son. "It preys on you."
"Like the hawk," Roland said. "It preys on you." He laughed—at the startling appropriateness of the image rather than at any lightness in the situation.
His father smiled.
"Yes," Roland said. "I guess it . . . it preys on me."
"Cuthbert was with you," his father said. "He will have told his father by now."
"Yes."
"He fed both of you when Cort—"
"Yes."
"And Cuthbert. Does it prey on him, do you think?"
"I don't know." Nor did he care. He was not concerned with how his feelings compared with those of others.
"It preys on you because you feel you've caused a man's death?"
Roland shrugged unwillingly, all at once not content with this probing of his motivations.
"Yet you told. Why?"
The boy's eyes widened. "How could I not? Treason was—"
His father waved a hand curtly. "If you did it for something as cheap as a schoolbook idea, you did it unworthily. I would rather see all of Taunton poisoned."
"I didn't!" The words jerked out of him violently. "I wanted to kill him—both of them! Liars! Black liars! Snakes! They—"
"Go ahead."
"They hurt me," he finished, defiant. "They changed something and it hurt. I wanted to kill them for it. I wanted to kill them right there."
His father nodded. "That's crude, Roland, but not unworthy. Not moral, either, but it is not your place to be moral. In fact . . ." He peered at his son. "Morals may always be beyond you. You are not quick, like Cuthbert or Vannay's boy. That's all right, though. It will make you formidable."
The boy felt both pleased and troubled by this. "He'll—"
"Oh, he'll hang."
The boy nodded. "I want to see it."
The elder Deschain threw his head back and roared laughter. "Not as formidable as I thought . . . or perhaps just stupid." He closed his mouth abruptly. An arm shot out and grabbed the boy's upper arm painfully. Roland grimaced but didn't flinch. His father peered at him steadily, and the boy looked back, although it was more difficult than hooding the hawk had been.
Download


Copyright Disclaimer:
This site does not store any files on its server. We only index and link to content provided by other sites. Please contact the content providers to delete copyright contents if any and email us, we'll remove relevant links or contents immediately.