City of Bones: The Mortal Instrument, Book 1 by Cassandra Clare
Author:Cassandra Clare , Date: July 31, 2014 ,Views: 1231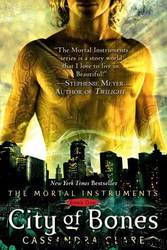 Author:Cassandra Clare
Language: eng
Format: mobi
Tags: Social Issues, Young Adult Fiction, Mystery & Detective, Juvenile Fiction, City & Town Life, Fantasy & Magic, Fiction, New Experience, Horror & Ghost Stories, Supernatural, Women Sleuths, Horror Stories, Demonology, Lifestyles
ISBN: 9781416955078
Publisher: Simon Pulse
Published: 2007-03-26T05:00:00+00:00



14
The Hotel Dumort
At night the Diamond Street church looked spectral, its Gothic arched windows reflecting the moonlight like silvery mirrors. A wrought iron fence surrounded the building and was painted a matte black. Clary rattled the front gate, but a sturdy padlock held it closed. "It's locked,"
she said, glancing at Jace over her shoulder.
He brandished his stele. "Let me at it."
She watched him as he worked at the lock, watched the lean curve of his back, the swell of muscles under the short sleeves of his T-shirt. The moonlight washed the color out of his hair, turning it more silver than gold.
The padlock hit the ground with a clang, a twisted lump of metal. Jace looked pleased with himself. "As usual," he said, "I'm amazingly good at that."
Clary felt suddenly annoyed. "When the self-congratulatory part of the evening is over, maybe we could get back to saving my best friend from being exsanguinated to death?"
"Exsanguinated," said Jace, impressed. "That's a big word."
"And you're a big—"
"Tsk tsk," he interrupted. "No swearing in church."
"We're not in the church yet," Clary muttered, following him up the stone path to the double front doors. The stone arch above the doors was beautifully carved, an angel looking down from its highest point. Sharply pointed spires were silhouetted black against the night sky, and Clary realized that this was the church she had glimpsed earlier that night from McCarren Park. She bit her lip. "It seems wrong to pick the lock on a church door, somehow."
Jace's profile in the moonlight was serene. "We're not going to," he said, sliding his stele into his pocket. He placed a thin brown hand, marked all over with delicate white scars like a veiling of lace, against the wood of the door, just above the latch. "In the name of the Clave," he said, "I ask entry to this holy place. In the name of the Battle That Never Ends, I ask the use of your weapons.
And in the name of the Angel Raziel, I ask your blessings on my mission against the darkness."
Clary stared at him. He didn't move, though the night wind blew his hair into his eyes; he blinked, and just as she was about to speak, the door opened with a click and a creak of hinges. It swung inward smoothly before them, opening onto a cool dark empty space, lit by points of fire. Jace stepped back. "After you."
When Clary stepped inside, a wave of cool air enveloped her, along with the smell of stone and candle wax. Dim rows of pews stretched toward the altar, and a bank of candles glowed like a bed of sparks against the far wall. She realized that, apart from the Institute, which didn't really count, she'd never actually been inside a church before. She'd seen pictures, and seen the insides of churches in movies and in anime shows, where they turned up regularly. A scene in one of her favorite anime series took place in a church with a monstrous vampire priest.
Download


Copyright Disclaimer:
This site does not store any files on its server. We only index and link to content provided by other sites. Please contact the content providers to delete copyright contents if any and email us, we'll remove relevant links or contents immediately.