Savage Texas: The Stampeders by W. Johnstone William & J.A. Johnstone
Author:W., Johnstone, William & J.A., Johnstone, , Date: November 6, 2020 ,Views: 31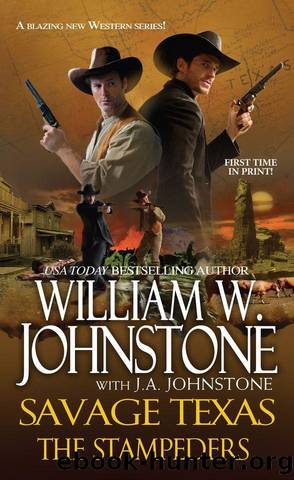 Author:W., Johnstone, William & J.A., Johnstone,
Language: eng
Format: mobi
Publisher: Pinnacle
Published: 2013-11-05T07:00:00+00:00



CHAPTER SIXTEEN
Early the next morning, as Sam Heller headed toward a steak-and-egg breakfast at the Cattleman, he passed a smokehouse that served the household of an administrator at the Hangtree Bank, one Arvil Caldwell, a man well-known to Heller. It was Caldwell who had helped Heller establish his multiple accounts at the bank, and who served as the unofficial designated guardian of Heller's extensive holdings in gold, silver, and cash in the bank's big vault.
Heller had often chanced to meet Caldwell coming out of his house as Heller headed for breakfast, so he prepared to say his hello should today prove to be one of those days. And it did. The door opened and Caldwell, face ruddy from a fresh morning shave and scrub, came out and grinned at Heller.
"Good morning, Sam! Looks to be a lovely day coming on!"
"Going to be hot, I'd say. You had breakfast?"
"Not yet, no."
"Come on then. I'm buying."
"Well! My lucky day, then!" The smiling man tripped lightly down his porch steps to join Heller. As he did so, his seven-year-old daughter, Angeline, came to the door, bearing a new doll he'd given her for her birthday a week earlier, and gave him a chirpy "Have a good day, Daddy!" He waved back at the girl and told her he hoped the same for her.
"You're a fortunate man, you know it?" Heller said as they walked in the direction of the big hotel that hosted the finest eatery in town. "Pretty wife, good family, nice home, solid work."
"Oh, I know it, Sam. I take not a bit of it for granted. I've been blessed beyond all measure, and don't deserve half of it."
"You take good care of your own, and that counts for a lot. You deserve your blessings more than you realize, Arvil."
"Thank you, Sam." Caldwell paused, then said, "From what I hear, you have some blessings of your own just now. Going to take that lovely new lady down at Myrtle's dress shop to the dance, I'm told."
"Who's been talking about me?"
"The lady herself, Miss Canton. She's been in the bank a good deal lately, making small deposits and every now and then a withdrawal. Half the time she doesn't seem to have all that good a reason to be there. She had one of the tellers give her a tour of the building a couple of days ago. Said she just likes banks and thought our vault door looked 'artistic.' Got a pretty emblem painted on it, you know."
"Yep. I've seen it aplenty. 'Likes banks,' huh? Odd thing to say."
"I thought the same, but I'm not trying to mock her when I tell you that. I hear she is a woman of good reputation."
"We know she goes to church, anyway," Heller said. "Knocked the teeth out of an outlaw's mouth not long ago, right there in the service."
"I know. I was there and I saw it. And heard what the man said to her before she did it, too. Looked right at her and said, 'It's you.
Download


Copyright Disclaimer:
This site does not store any files on its server. We only index and link to content provided by other sites. Please contact the content providers to delete copyright contents if any and email us, we'll remove relevant links or contents immediately.