Run Little Wolf (The Forest Pack Series Book 1) by G. Bailey
Author:G. Bailey [Bailey, G.] , Date: January 17, 2018 ,Views: 2882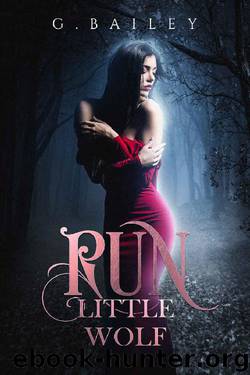 Author:G. Bailey [Bailey, G.]
Language: eng
Format: epub
Published: 2017-12-22T16:00:00+00:00



"That's it. I'm going out to look for her. She has been gone for hours, and I know that damn vampire has taken her out," I say, storming out of the kitchen and reaching the front door as it's opened. Colton practically falls through the door, holding Harper up, his arm around her back, and the smell of fey alcohol fills the room. Harper has on a short black dress, looking beyond sexy and so relaxed that I don't have it in me to lecture her about how worried I was. I forget she is only eighteen, and as much as I hate the bastard for taking her out, she might have needed that escape from everything. I just hope she wasn't running from me. It takes a lot of work to swallow the part of me that wants to pick the vampire up and throw him across the driveway.
"Nicky," Harper says in a blurry voice and then laughs when she tries to stand up straight and wave at me.
"Seems she is okay," Gold says, coming out the kitchen. "Other than out of her face on fey drinks." She laughs at the sight of my drunk destined mate and the drunk vampire at her side.
"Wait, I know you're mad at me, but-" she goes to say as she steps forward, but then trips. Colton catches her, just about.
"Let's just get her up to bed," I groan, walking over and lifting Harper into my arms. I'm surprised that Colton doesn't try to stop me, but I do hear him following Gold and me up the stairs. I carry her to her room, laying her on the bed, and Colton pulls a blanket over her.
"Don't kill each other, boys, because if you did, neither of you would get her in the end. She doesn't know it, but she likes, even loves, you both," Gold tells us from the doorway and then walks out. I stare at Colton as he looks down at Harper and despite hating the man for being her mate, I know he is in the same situation I am. My mother's words come back to me, how she used to say everything is fated by the gods. That our mates are chosen, that everything in our world happens for a reason. I know Colton wouldn't be here if he didn't love her, if it wasn't meant to be.
"We should talk, before I do something stupid, like throwing you out the window I had to fix," I say, and he laughs as he looks at the fixed window.
"Alright, wolf," he says, and I walk out of the room, with him following. We go downstairs, into my office. I shut the door behind him and pour a glass of vodka from the small bar off to the side. Colton sits down in the chair in front of the desk, and I take the one behind, without a thought of offering him a drink. It's clear he has already had enough.
"I'm going to make this clear.
Download


Copyright Disclaimer:
This site does not store any files on its server. We only index and link to content provided by other sites. Please contact the content providers to delete copyright contents if any and email us, we'll remove relevant links or contents immediately.