Darkest Temptation (The Dark Ones) by Rachel Van Dyken
Author:Rachel Van Dyken [Van Dyken, Rachel] , Date: November 3, 2017 ,Views: 7703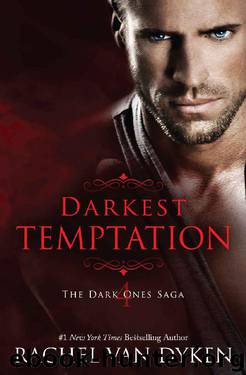 Author:Rachel Van Dyken [Van Dyken, Rachel]
Language: eng
Format: epub
Publisher: Van Dyken Enterprises INC
Published: 2017-10-28T18:30:00+00:00



SERENITY
There was no reason for my hands to be shaking, but they were. The warm cookies were barely staying stacked with on the plate. It was dark. And I'd just seen Genesis get in a car with the twins and Ethan and just leave; they had bags as if they were moving, but this was Ethan's house. My confusion only mounted when Cassius had whispered something to Alex that had him grabbing Hope by the arm the minute she'd reached the bottom of the stairs and pulling her toward the garage.
"Everything okay?" I'd asked Stephanie.
She'd only shrugged and had given me a funny look.
Cassius swept back into the room. "Remember what I said."
And that was it.
The house was dark.
And I was holding a stupid plate of cookies as if that was going to calm the beast in the upstairs bedroom — as if that was going to make him want me.
If your own parents don't love you enough to stay…
What makes you think that a plate of cookies is going to help an immortal king want to mate you?
That was the question I asked after every step.
After each breath.
What makes you so different?
Nothing.
Nothing at all.
Insecurity had a way of seeping into every crevice of my brain, making it impossible for me to come up with a scenario that had Mason choosing me, choosing us.
He barely knew me.
But his blood…
I briefly closed my eyes.
That wolf was made for me in ways I couldn't even begin to comprehend. Just thinking about him had my teeth aching, my body craving more.
I'd felt sick ever since the grocery store, and now I just wanted relief, relief only he could bring.
Mason.
The door was open.
I quietly walked in. Moonlight shone through the open window as cool night air filled the empty space between me and his massive body.
His breathing was slow.
His naked chest rose and fell with an easy cadence that immediately calmed me down.
I took a deep breath and then approached.
I didn't even have time to speak before his hand snaked out and gripped my free hand.
"What…" He leaned up on his elbow. "…is that smell?"
I cleared my throat. "Cookies."
"Cookies." His icy gaze locked on me.
"Chocolate chip cookies." I couldn't tear my eyes away from his, from the way they penetrated every defense without asking permission to do so. His eyes stripped me bare without a thought.
I let them.
My body heated.
He dropped my hand and reached for a cookie. "I haven't had a cookie in…"
"Years?" I offered.
His mouth curved into a sultry smile. "Hundreds."
"That's some hardcore self-control," I joked.
His smile was tense. The room swirled. It pulsed with electricity, with blood that pounded my body, begging for release, begging to be joined with his.
White teeth bit into the cookie slowly. My eyes followed as his tongue snaked out and licked a bit of chocolate that had the honor of grazing his perfect, plump lower lip. My mouth buzzed with jealousy. I would probably slit someone's throat to be that piece of chocolate.
Mason closed his eyes and let out a guttural groan before reaching for another cookie.
Download


Copyright Disclaimer:
This site does not store any files on its server. We only index and link to content provided by other sites. Please contact the content providers to delete copyright contents if any and email us, we'll remove relevant links or contents immediately.