Relentless: A Cyn and Raphael Novella (Vampires in America 11.5) by D. B. Reynolds
Author:D. B. Reynolds [Reynolds, D. B.] , Date: November 21, 2017 ,Views: 5841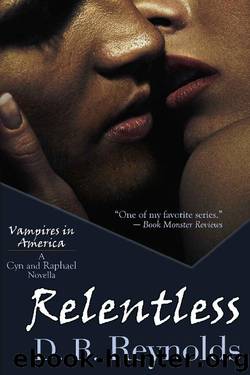 Author:D. B. Reynolds [Reynolds, D. B.]
Language: eng
Format: epub
ISBN: 9781611948257
Publisher: ImaJinn Books
Published: 2017-10-29T18:30:00+00:00



Even before tonight's attack, Raphael had been determined to take the war back to the Europeans. It was the whole reason for Quinn's strategy in Ireland. But now, it appeared that some, or all, of France's vampires—and there were nearly fifty big and small territories in France—had offended Raphael mightily enough that he was willing to commit the ultimate crime in the vampire world. He was going to pay a "visit" to someone else's territory, unannounced and uninvited. It was an act of war if the affected French lords chose to see it that way. And, why wouldn't they? An unwelcome visit from the most powerful vampire on earth?
Christ, the French vamps would go ballistic when they heard about it. So would Raphael's security team.
"Quinn?"
He looked up at Raphael's prompting. "As distractions go, my lord, it would be like dropping a nuclear bomb on the Eiffel Tower." He glanced at Lucas, who was still staring at Raphael. "I share Lucas's concerns, but if you're determined to do it, then it would certainly make my life easier. Not that you've any obligation in that regard." Vampire politics. One had to be so very careful with words.
Raphael bared his teeth in a predatory grin. "What do you think, my Cyn?" he asked.
The woman's smile was every bit as terrifying as Raphael's. "Do I get to kill some vampires?"
Raphael laughed. "It looks like we're going to Paris."
Download


Copyright Disclaimer:
This site does not store any files on its server. We only index and link to content provided by other sites. Please contact the content providers to delete copyright contents if any and email us, we'll remove relevant links or contents immediately.