Rule Breaker by Lily Morton
Author:Lily Morton [Morton, Lily] , Date: September 10, 2017 ,Views: 2629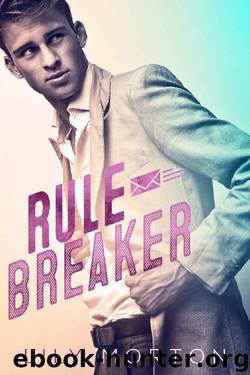 Author:Lily Morton [Morton, Lily]
Language: eng
Format: epub
Publisher: UNKNOWN
Published: 2017-08-16T16:00:00+00:00



Eleven
To: Dylan Mitchell
From: Gabe Foster
I speak French, Spanish, German and a little Russian, but that still doesn't equip me to understand your garbled vocabulary.
An hour later we climb the narrow stairs and he huffs indignantly. "I cannot believe that you told your mother those things. I mean the story about the conference, you've wildly exaggerated that."
I turn and wink cheekily at him. "I don't think so, and don't worry I haven't told her any of the more recent stories."
Heat crosses his face. "Fuck, I wish we were on our own at this moment."
"Why?" I whisper, turning and blocking his way up. I'm a stair above him, and we're now the same height. I stare into his stormy-grey eyes. "What would you do?"
He stares at me intently, and then reaches up and runs his long fingers across my lips. "I'd put these to good use."
I shiver and then turn around. "Hold that thought."
He follows me. "What do you mean? I am not doing anything in your childhood home, Dylan."
"Pshaw," I shrug, getting to the top of the stairs. "My mum and dad's room is down that way in the old part of the house, overlooking the back. My brother's room is also at the back. My other brother and sister don't live at home." I grab the door handle to my room and look at him cockily. "So we're all alone, Mr Foster. Get ready to make some noise." I fling the door open with a flourish and stand back to let him go through.
He shakes his head and pauses when he's inside the room, looking around with a lively curiosity. The room is bathed in sunshine, which lays lazy stripes over the white walls and sand-coloured carpet. "Was this your room when you were little?" he asks, avid curiosity and something sad vying for prominence in his eyes.
I look around at the king-sized bed with the navy and red, handmade quilt, and the one navy-painted wall on which is hung one of my mum's huge, six foot paintings. It shows me and my brothers playing in an old boat we'd had. She went through a stage of painting with very light colours, and the whole picture has a whitewashed, ethereal air. "It was, but they redecorated when I left home and took down all my posters of Brad Pitt."
He pouts mockingly. "Oh dear, what a tragedy."
I nod. "I know. They were from 'Troy' when he had long hair, but I really feel that his seminal work was 'Fight Club'."
He smiles. "I'm noting your use of the word seminal."
I laugh. "You were meant to."
He puts his bag down and wanders over to look out of the window, stooping slightly as the ceilings in the farmhouse are low. "I can't imagine growing up somewhere like this," he says almost wistfully, and I reach out and lay a hand on his shoulder. It's for comfort, but when he stiffens slightly I cover it by leaning over and looking out of the window.
"It was a lovely childhood.
Download


Copyright Disclaimer:
This site does not store any files on its server. We only index and link to content provided by other sites. Please contact the content providers to delete copyright contents if any and email us, we'll remove relevant links or contents immediately.