Remember When by JD Robb
Author:JD Robb [Robb, JD] , Date: June 11, 2021 ,Views: 28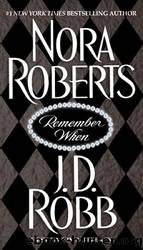 Author:JD Robb [Robb, JD]
Language: eng
Format: epub
Published: 2010-09-10T04:00:00+00:00



PART
Two
All things change;
nothing perishes.
—OVID
Commit the oldest sins
the newest kind of ways.
—WILLIAM SHAKESPEARE
17.
New York, 2059
She was dying to get home. Knowing her own house, her own bed, her own things were waiting for her made even the filthy afternoon traffic from the airport a pleasure.
There were small skirmishes, petty betrayals, outright treachery and bitter combat among the cabs, commuters and tanklike maxibuses. Overhead, the airtrams, blimps and minishuttles strafed the sky. But watching the traffic wars wage made her antsy enough to imagine herself leaping into the front seat to grab the wheel and plunge into the fray, with a great deal more viciousness and enthusiasm than her driver.
God, she loved New York.
While her driver crept along the FDR as one of the army of vehicles battling their way into the city, she entertained herself by watching the animated billboards. Some were little stories, and as a writer herself, and the lover of a good tale, Samantha Gannon appreciated that.
Observe, she thought, the pretty woman lounging poolside at a resort, obviously alone and lonely while couples splash or stroll. She orders a drink, and with the first sip her eyes meet those of a gorgeous man just emerging from the water. Wet muscles, killer grin. An electric moment that dissolves into a moonlight scene where the now happy couple walk hand in hand along the beach.
Moral? Drink Silby's Rum and open your world to adventure, romance and really good sex.
It should be so easy.
But then, for some, it was. For her grandparents there'd been an electric moment. Rum hadn't played a part, at least not in any of the versions she'd heard. But their eyes had met, and something had snapped and sizzled through the bloodstream of fate.
Since they'd be married for fifty-six years this coming fall, whatever that something had been had done a solid job.
And because of it, because fate had brought them together, she was sitting in the back of a big, black sedan, heading uptown, heading toward home, home, home, after two weeks traveling on the bumpy, endless roads of a national book tour.
Without her grandparents, what they'd done, what they'd chosen, there would have been no book. No tour. No homecoming. She owed them all of it—well, not the tour, she amended. She could hardly blame them for that.
She only hoped they were half as proud of her as she was of them.
Samantha E. Gannon, national best-selling author of Hot Rocks.
Was that iced or what?
Hyping the book in fourteen cities—coast to coast—over fifteen days, the interviews, the appearances, the hotels and transport stations had been exhausting.
And, let's be honest, she told herself, fabulous in its insane way.
Every morning she'd dragged herself from a strange bed, propped open her bleary eyes and stared at the mirror just to be sure she'd see herself staring back. It was really happening, to her, Sam Gannon.
She'd been writing it all of her life, she thought, every time she'd heard the family story, every time she'd begged her grandparents to tell it, wheedled for more details.
Download


Copyright Disclaimer:
This site does not store any files on its server. We only index and link to content provided by other sites. Please contact the content providers to delete copyright contents if any and email us, we'll remove relevant links or contents immediately.