Pride & Popularity by Jenni James
Author:Jenni James [James, Jenni] , Date: October 1, 2014 ,Views: 513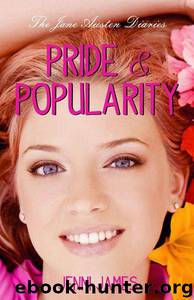 Author:Jenni James [James, Jenni]
Language: eng
Format: epub, mobi
Tags: Romance, Contemporary, Young Adult, Humour
ISBN: 9780983829300
Google: _5xPXwAACAAJ
Goodreads: 12092005
Publisher: Inkberry Press
Published: 2010-12-31T13:00:00+00:00



FIFTEEN
NOT-SO-FLATTERING OFFER
Thank goodness no one from the school knew about Alyssa and Zack seeing each other. It wasn't surprising, I guess, since the two were never together around kids from school—other than at our party, where everyone was more surprised to see the school's reigning king and prince than to ponder why they came. I'm totally excluding Kylie, I know, but the way she pouted the whole night, it was obvious to everyone else that she wasn't happy to be there. On the other hand, Taylor and Zack got involved in every game, which completely removed any awkwardness my guests might have felt with them—the "in" guys—being there. And that turned it into—I hate to say it—probably our greatest bash to date.
Still, I don't think anyone realized Alyssa and Zack were sort of a couple, mainly because they were both so darned shy about it. They spoke to each other, but no more than they did to anyone else. All in all, I guess it was a good thing they were so quiet about their relationship. If everyone did know, Alyssa would've become the biggest center of gossip at school on Wednesday afternoon. I'm not sure if she could've handled that. She had a hard enough time with it already.
"But I don't understand why," I said to her. "Did he give a reason?"
"No." Alyssa sniffed. "He just said he couldn't see me anymore. And that we . . . we had to break up." She leaned on my shoulder and burst into tears. Thankfully, the parking lot had emptied pretty fast today, and even the students that saw her meltdown had no idea of the reason for it.
"Shh." I patted her back. I wish Madison were here. She would know just what to say to Alyssa to make her smile again.
"But I didn't even know we were going out out. That's the worst part." Alyssa sobbed harder. "I had a boyfriend and didn't even know it!"
"Wow," was all I managed. I was very disappointed in Zack. I had really begun to think he was for real. Popular guys—boys—can be such losers. Do they really have no idea how much they can crush a girl? As much as I tried, I couldn't convince myself that they didn't know what they were doing when they broke a girl's heart.
"Let's go get some milkshakes," I suggested.
"Um, I'd rather not," Alyssa mumbled. After a few more sniffles, she released me and stood up, wiping her face with her hand.
I rummaged in my backpack and found one of those travel tissue packs. "Here." I handed Alyssa a tissue. Then, after seeing her face, I handed her another one.
She giggled. "Yeah. My mom doesn't let me buy waterproof mascara."
"I'll say." I smiled. Alyssa's face was covered in black streaks—or make that blotches now that she had wiped her face. "Let's go to your house instead. I really don't think you're up for facing anyone in public."
"Thanks . . . I think." She giggled again. "Just give me a minute and I'll be myself.
Download


Copyright Disclaimer:
This site does not store any files on its server. We only index and link to content provided by other sites. Please contact the content providers to delete copyright contents if any and email us, we'll remove relevant links or contents immediately.