School Spirits by Hawkins Rachel
Author:Hawkins, Rachel [Hawkins, Rachel] , Date: March 26, 2014 ,Views: 533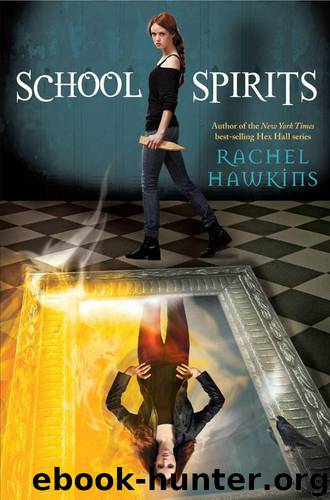 Author:Hawkins, Rachel [Hawkins, Rachel]
Language: eng
Format: epub, mobi
Tags: Fantasy, Vampires, Romance, Fiction - Young Adult, Young Adult
ISBN: 9781423148494
Google: mxi5NAEACAAJ
Amazon: 1423148495
Goodreads: 15826934
Publisher: Disney-Hyperion
Published: 2012-12-31T18:30:00+00:00



CHAPTER 17
"Here." Romy added a sweater to the pile in my arms. "Redheads look good in green."
I cast a doubtful look at the sweater. "This…doesn't look like green."
The shade should've been called "Radioactive" or maybe "Noxious." That had been one of our vocabulary words this morning.
Frowning, Romy reached into the rack and pulled out a black skirt. "Here, Ninja Lady," she said, tossing it to the top of my stack. "You can wear it with black."
We'd been shopping for over an hour, and Romy had already talked me into a pink blouse, two pairs of jeans that were not black, three T-shirts in various shades of purple, and even a yellow sundress. "First day of spring, if I don't see you rocking this, I'm going to be very disappointed," Romy had said when she'd shoved it into my arms.
"Deal," I'd replied, even as a little voice inside my head reminded me that I wouldn't be in Ideal in the spring.
Now I gently put back both the green sweater and the black skirt. "I think we're set, Romy. My mom's credit card can only take so much."
Romy heaved a huge sigh and ran her fingers longingly over the green sweater. "What if I bought it, and then you could borrow it sometimes?"
I laughed. "Clearly, you and that sweater were meant to be."
Once we left the store, we still had nearly half an hour to kill before her mom was due to pick us up. Ideal had one mall, and while it wasn't exactly upscale, there were a few nice stores, and I had to admit, the smells wafting from the food court were pretty tempting. But rather than head that way, Romy steered us toward a particularly sad-looking toy store.
"You know, I'm actually all stocked up on My Little Ponies," I told her as she dragged me through the entrance. Romy rolled her eyes.
"First of all, no girl can ever have enough My Little Ponies. That's just science. But secondly, we're not here for those. I need to get a new Ouija board. The one we have is all scratched up and smells like school."
Oh, right. The séance was coming up. I'd promised Mom I'd stop it, and what had I been doing instead? Going to basketball games. Shopping for clothes.
"Are we really gonna do the séance thing?" I asked as Romy moved toward the board game section.
"Um, yeah. Whenever I get another free night, that is." Walking her fingers down stacks of boxes, she finally found the one she was looking for. "Aha!"
As she pulled the Ouija board from the shelf, I shifted my bags to my other arm and put a hand on the box. "Look, I love a good séance, but Ouija boards are so old-fashioned. Isn't there something more…technical we could use?"
Romy didn't take her hand away from the box, but she did frown thoughtfully. "Like what?"
"I don't know. Didn't Anderson just get a new EMP reader? Maybe let him use that. And, I mean, honestly, Romy, do you trust Dex with a Ouija board?"
It was the right thing to say.
Download


Copyright Disclaimer:
This site does not store any files on its server. We only index and link to content provided by other sites. Please contact the content providers to delete copyright contents if any and email us, we'll remove relevant links or contents immediately.