Deadly Little Sins by Kara Taylor
Author:Kara Taylor , Date: May 10, 2014 ,Views: 504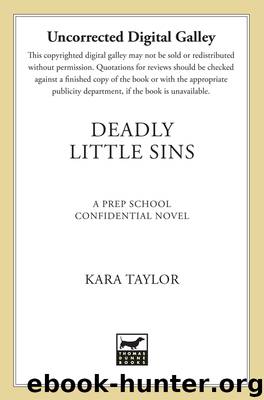 Author:Kara Taylor
Language: eng
Format: epub, mobi
Publisher: St. Martin's Press



CHAPTER
TWENTY-ONE
While I'm waiting for Alexis to get the chance to comb through Caroline's phone in search of a burner app—or any incriminating text messages—I gather more intel on Spencer Vandenberg.
There's a lot of information about him, since he was in the public eye leading up to the Winter Olympics eight years ago. But there's nothing that suggests a connection to the Barnes family, or even that Spencer is anything more than your standard drug-peddling yuppie scumbag.
U.S. Olympic Team Cuts Competitive Snowboarder Who Failed Drug Test
The Olympic Committee announced Tuesday morning that FIS World Championship silver medalist Spencer Vandenberg, 22, would not be competing in the Torino games. The announcement follows last week's headline that Vandenberg, an alum of the Wheatley School, tested positive for trace amounts of a banned substance during an International Olympic Committee drug test.
Neither Vandenberg nor the coach of the men's snowboard team could be reached for comment.
There's a picture of Spencer, posing with a banner for Mountain Crush energy drink. I'm going to venture a guess that he lost that sponsorship.
So Spencer got off with a slap on the wrist for being an Olympic hopeful, only to throw his chances at a medal down the toilet. Meanwhile, Natalie gets expelled, her life takes turn after turn for the worst—and somehow, years later, she returns to the scene of the crime.
Did she blame Spencer for everything that happened to her? Was making her way back to Wheatley the first step in a plot for payback?
Something keeps bugging me about Spencer's story. He said Natalie was screaming and running from a man. I've been busted being somewhere I wasn't supposed to be before. Many times. You always run, but you never scream. Crying and pleading for forgiveness is the best way to handle a cop.
You don't scream unless you have a reason to.
Maybe Natalie didn't scream because she saw a police officer. Maybe she saw something else—something she wasn't supposed to see. Spencer had just conducted a drug deal at the annex; what if someone other than the cops were waiting in the woods and Natalie had gotten caught in the crossfire, so to speak? Even slimy, low-level high school drug dealers have enemies.
Possibly, enemies so powerful that Natalie had to take drastic measures to evade them. But if Wheatley really was the scene of the crime, why would she return?
Unless her only option was to hide in plain sight.
By Friday, I still haven't heard from Alexis and I'm almost fresh out of leads. So I start digging into Ms. C's personnel file. She was good at pretending to be Jessica Cross, but she must have slipped up to someone in the past eight years—given someone a reason to doubt her real identity.
One thing sticks out to me on the resume—Ms. C worked at the Cambridge Public Library for three years before taking the job at Wheatley. Cambridge is nearby—maybe tomorrow I can stop by. On Sunday, Remy is dragging me to a BC-Notre Dame football game, and Monday is Columbus Day, which means the library will be closed.
Download


Copyright Disclaimer:
This site does not store any files on its server. We only index and link to content provided by other sites. Please contact the content providers to delete copyright contents if any and email us, we'll remove relevant links or contents immediately.