And Both Were Young by Madeleine L'engle
Author:Madeleine L'engle , Date: July 8, 2014 ,Views: 633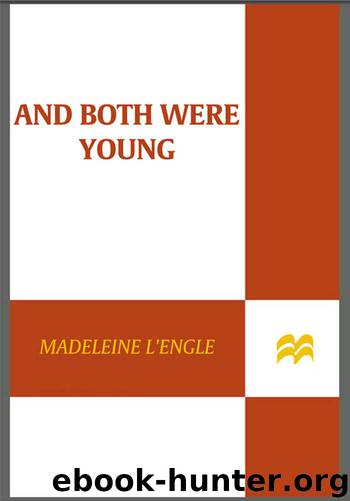 Author:Madeleine L'engle
Language: eng
Format: epub, mobi
ISBN: 9780374303648
Publisher: Farrar, Straus and Giroux (BYR)



Flip was ready and waiting in the big hall when Monsieur Laurens came for her the next afternoon. The girls were all curious and rather envious when, in answer to their questions, they learned that Flip had been given special permission to have tea with Madame's nephew, and she felt that her stock had gone up with them.
"My aunt, Pill, it's really a date!" Gloria whistled.
"I bet Pill's never been out with a boy before," Esmée said. "Have you, Pill? Usually the Americans have more dates than the rest of us, but I bet this is Pill's first date. Are you going to let him kiss you, Pill?"
"Don't be silly," Flip said.
"Anyhow, Black and Midnight said it wasn't a date," Sally added. "I bet this nephew's just a child."
Erna whispered to Flip, "Esmée and Sally're just boy crazy. Don't mind them. Personally I think boys are dopes."
At the gate house an hour later, Flip and Paul lay on the great rug in front of the fire and roasted chestnuts while Georges Laurens watched from his chair and Ariel rested his head on his master's knee.
"So you don't like school?" Georges Laurens asked Flip.
"No, sir."
"Why not?"
"I can't seem to fit in. I'm different."
"And I suppose you despise the other girls?" Georges Laurens asked.
Flip looked surprised for a moment, then hesitated, thinking his question over as she opened and ate a chestnut. "No. I don't despise them. I'm just uncomfortable with them," she answered finally, chewing the delicate tender meat and staring at the delicate unicorn in the tapestry on the wall above her. "But you want to be like them anyhow?" Georges Laurens pursued.
She nodded, then added, "I want to be like them and like myself too."
"You think quite a lot of yourself?"
"Oh, no!" She shook her head vehemently. "It isn't that at all. I think I'm—I'm not anything I want to be. It's just that there are certain things outside me and the way I feel about them that I wouldn't want changed. The way I feel about the mountains and the lake. And stars. I love them so very much. And I don't think the others really care about them. I don't think they really see them. And it's the way I feel about things like the mountains and the lake and stars that I wouldn't want changed."
"You want a great deal, my little Flip," Georges Laurens said, gently stroking Ariel's head, "when you want to be exactly like everybody else and yet be different at the same time."
Paul reached for another chestnut and rolled lazily onto his back. "I sympathize with you, Flip. It's horrible to be in an institution. Couldn't you have stayed at home with your parents?"
"I wanted to," Flip said, "but my grandmother's in Connecticut and right now my father's in China, and my mother's dead. I wanted to travel around with Father, but he said he was going to go to all sorts of places I couldn't go, and I couldn't miss school anyhow."
Download


Copyright Disclaimer:
This site does not store any files on its server. We only index and link to content provided by other sites. Please contact the content providers to delete copyright contents if any and email us, we'll remove relevant links or contents immediately.