Pocket Guide to Butterflies by Bob Gibbons
Author:Bob Gibbons , Date: March 26, 2020 ,Views: 53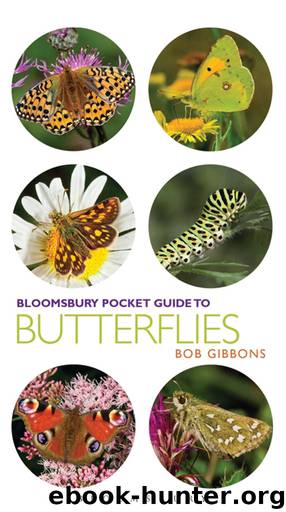 Author:Bob Gibbons
Language: eng
Format: epub
ISBN: 9781472915948
Publisher: Bloomsbury Publishing
Published: 2014-03-15T00:00:00+00:00



Female Dark Green Fritillary on Knapweed.
Male Dark Green Fritillary basking.
High Brown Fritillary
Argynnis adippe
Male High Brown Fritillary on bramble.
FLIGHT PERIOD Flies in a single generation, mid-June–early September.
Wingspan 60mm. A beautiful butterfly, very similar in overall appearance to the Dark Green Fritillary, although much rarer and more elusive. From being widespread it has declined so severely in recent decades that it has become one of our rarest species. It is virtually the same size as Dark Green, or perhaps slightly smaller on average. From above, males look almost identical, except that they have thicker sex brands on the second and third veins of the forewing. Female High Browns resemble Dark Greens, except that the pale spots around the margins of both wings are absent in High Browns. Underneath they are similar, but High Browns are generally less greenish, and have a series of small, red-ringed white dots between the outermost two lines of dots on the hindwing, absent in Dark Greens. In general, Dark Greens have more and brighter white spots on the forewing margin, although this varies.
HABITAT AND DISTRIBUTION
Formerly widespread as a woodland butterfly, but now occurs within the UK in more open, mixed habitats that include grassland, scrub and woodland elements, and frequently Bracken, notably on Dartmoor and the limestones around Morecambe Bay. Confined to these areas and a tiny number of sites in the Midlands and South Wales. Still quite widespread in northern mainland Europe, although absent from many lowland areas and the far north of Scandinavia.
SIMILAR SPECIES
Dark Green Fritillary and Niobe Fritillary.
Download


Copyright Disclaimer:
This site does not store any files on its server. We only index and link to content provided by other sites. Please contact the content providers to delete copyright contents if any and email us, we'll remove relevant links or contents immediately.