Paradise Lot: Two Plant Geeks, One-Tenth of an Acre, and the Making of an Edible Garden Oasis in the City by Eric Toensmeier & Jonathan Bates
Author:Eric Toensmeier & Jonathan Bates [Toensmeier, Eric & Bates, Jonathan] , Date: July 21, 2020 ,Views: 138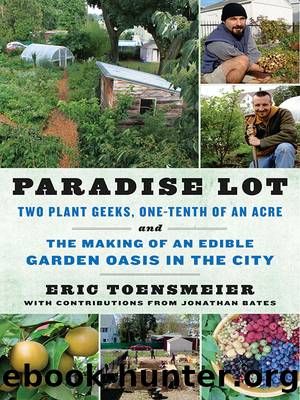 Author:Eric Toensmeier & Jonathan Bates [Toensmeier, Eric & Bates, Jonathan]
Language: eng
Format: epub
Tags: Gardening, House & Home, Non-Fiction, Sustainable Living, Techniques, Urban
ISBN: 9781603583992
Google: ipA1e_EXJHoC
Amazon: B00BCLJA02
Publisher: Chelsea Green Publishing
Published: 2013-01-15T00:00:00+00:00



19
GRAZING BERRIES
During his regular visits, our friend Ethan Roland spent many hours walking in the garden with us, making observations, and sampling perennial produce. In the middle of one of our grazing tours of the garden, as we moved from one species of berry to another to another, Ethan observed that not only were we eating a high diversity of tasty berries but, much more unlikely, our sweeties had both moved in within a month of each other. Jonathan and I decided we should review our goals to see what else might be coming our way.
As perennial vegetable season is drying up, berries are coming into full swing. Foraging for fresh fruit in the backyard was a key goal for Jonathan and me, as reflected in the diversity and abundance of berries in our garden. Within two to three years, all of our berries were yielding well, and many were filling in to form nice patches. There's nothing better than walking out the back door and feasting on five or six different kinds of berries as you make your way through the garden. Jonathan and Meg love them on their cereal every morning, and we've cooked all kinds of dishes with them. But in general that's too much work for me: nothing is as satisfying as filling up a handful of berries and shoving them into my mouth right out in the sunshine.
Our first berries of spring are honeyberries, or haskap, which ripen in May. You need at least two varieties for pollination, and though our first one died, its replacement eventually caught up. We enjoy these small, sweet-and-sour blue delights, a harbinger of harvests to come. Soon after the honeyberry harvest is over, strawberries come along. I never liked strawberries growing up; now I know it's because the quality of strawberries sold in stores is nothing like a fresh, fragrant strawberry from the garden. We rotate our strawberry beds slowly through the garden, giving each planting three years in each location and starting a new one every spring. We started with everbearing varieties but then turned our focus to heavy June-bearing types, since we have plenty of other fruit during other times of the year. Alpine strawberries, which pack all the flavor of a quart of strawberries into each tiny fruit, start fruiting around the time, continue through early July, and come on again to some degree in the fall. They're so small and make just a few fruits each day, so we plant them along the borders of our pathways to remind us to take advantage of them.
Some years our strawberry harvest is poor. Perhaps it is cold and wet, and disease is affecting our plants, or perhaps we didn't do a good job of weeding or planting out our new bed the year before and yields suffer as a result. In those seasons we rely heavily on our goumi, whose small, red cherries are tart and astringent until dead ripe, at which point they're quite nice. Our
Download


Copyright Disclaimer:
This site does not store any files on its server. We only index and link to content provided by other sites. Please contact the content providers to delete copyright contents if any and email us, we'll remove relevant links or contents immediately.