Open by Jenny Block
Author:Jenny Block , Date: August 4, 2020 ,Views: 366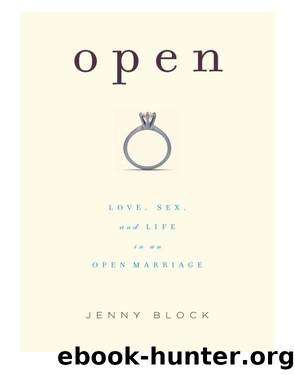 Author:Jenny Block
Language: eng
Format: epub
Publisher: Seal Press
Published: 2010-11-30T16:00:00+00:00



i'd had my fill of the late-night "what if?" conversations, Christopher had agreed to give it a go with Lisbeth, and I was ready to approach her about it. Even though she and I had discussed it several times, our conversations mostly involved innuendo. We teased each other about her wanting to attack my husband, and about the two of us sleeping together someday. I have no clue whether she thought it would ever really happen. But the lengthy buildup seemed to speak for itself. I was simply waiting for the time to be just right. I'm a big believer in destiny, and, as my spiritual advisor, Jimmy Belasco (whom I meet with biweekly for a dose of palatable Taoist advice to help me on my path), consistently reminds me, "Everything happens as it's supposed to." When you open yourself to the universe and all of its possibilities, you will find what you are seeking, and what you are intended to find. Thus, my friendship with Lisbeth was serendipitous.
I was attracted to Lisbeth from the very first day we met. Aside from her beautiful hair and amazing body, she was wickedly funny and incredibly smart. We met at book club, a group made up of twenty- and thirtysomethings, some married, some single, some with children and some without. These women were the exact opposite of the ones in my planned community. They were politically liberal, for the most part. Interestingly, though, we discovered after just a few book club meetings that they all seemed to be onboard the Disney monorail of monogamous marriage, 2.5 kids, and a dog named Sparky.
The book that shed light on this fact was Written on the Body, by Jeanette Winterson, about an incredible, life-altering affair that the central character has with a married woman. Though the author never reveals the protagonist's gender, the sensuality and emotion in the relationship are raw, intense, and wholly female. Shockingly, our entire group concurred that the central character was a man—everyone except for Lisbeth and me, that is.
Our shared interpretation of Written on the Body was just the starting point of what would become an amazingly strong friendship. After that night at book club, I asked her to have dinner with me one night, and then drinks another, and before we knew it, we were hanging out all the time. We'd go to bars and concerts. She'd come over and spend time with my family. Sometimes she'd baby-sit so Christopher and I could have a night out. Lisbeth and Emily adored each other; in fact, I'm pretty sure Emily thought Lisbeth was her best friend, not mine.
Lisbeth and I were incredibly like-minded, especially about sex and relationships. In other ways, we were quite different. She was single and ten years younger than I, and had grown up in a conservative Catholic family. Before meeting her, I spent months, prior to initiating the idea of open marriage with my husband, feeling like I was some sort of freak, like my libido was out of control, like I was selfish—a bad wife and a bad mother.
Download


Copyright Disclaimer:
This site does not store any files on its server. We only index and link to content provided by other sites. Please contact the content providers to delete copyright contents if any and email us, we'll remove relevant links or contents immediately.