On Death and Dying by Elisabeth Kübler-Ross
Author:Elisabeth Kübler-Ross [Kübler-Ross, Elisabeth] , Date: August 6, 2020 ,Views: 418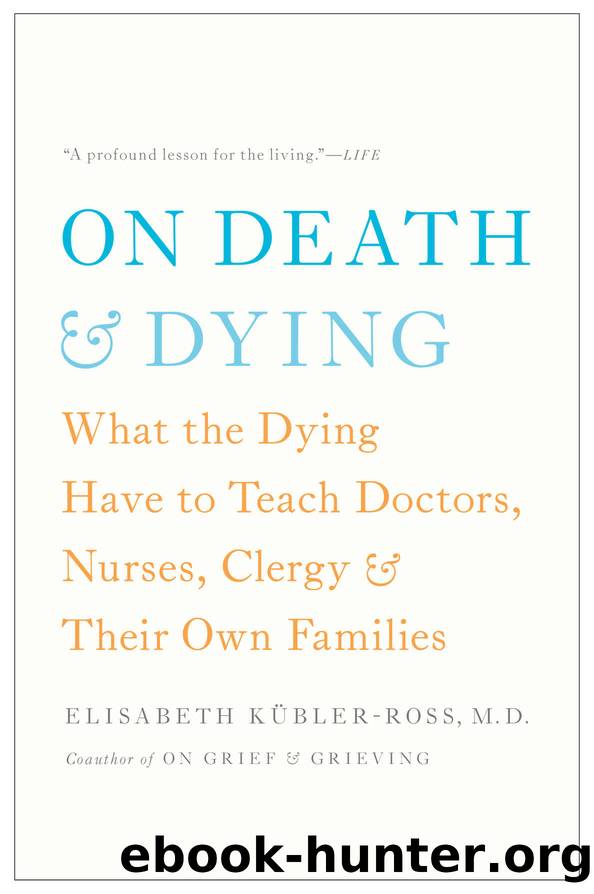 Author:Elisabeth Kübler-Ross [Kübler-Ross, Elisabeth]
Language: eng
Format: azw3
Publisher: Scribner
Published: 2011-07-25T16:00:00+00:00



* * *
†See Bibliography.
CHAPTER IX
The Patient's Family
The father came back from the funeral rites.
His boy of seven stood at the window, with eyes wide open and a golden amulet hanging from his neck, full of thoughts too difficult for his age.
His father took him in his arms and the boy asked him, "Where is mother?"
"In heaven," answered his father, pointing to the sky.
The boy raised his eyes to the sky and long gazed in silence. His bewildered mind sent abroad into the night the question, "Where is heaven?"
No answer came: and the stars seemed like the burning tears of that ignorant darkness.
TAGORE,
from The Fugitive, Part II, XXI
CHANGES IN THE HOUSEHOLD AND EFFECTS ON THE FAMILY
We cannot help the terminally ill patient in a really meaningful way if we do not include his family. They play a significant role during the time of illness and their reactions will contribute a lot to the patient's response to his illness. Serious illness and hospitalization of a husband, for example, may bring about relevant changes in the household which the wife has to get accustomed to. She may feel threatened by the loss of security and the end of her dependence on her husband. She will have to take on many chores previously done by him and will have to adjust her own schedule to the new, strange, and increased demands. She may suddenly have to get involved in business matters and their financial affairs, which she previously avoided doing.
If hospital visits are involved, arrangements may have to be made for transportation and for babysitters during her absence. There may be subtle or dramatic changes in the household and in the atmosphere at home, to which the children will also react, thus adding to the burden and increased responsibility of the mother. She will suddenly be faced with the fact that she is—at least temporarily—a lone parent.
With the worries and concerns about her husband, added work and responsibility also comes increased loneliness and—often—resentment. The expected assistance from relatives and friends may not be forthcoming or may take on forms which are both bewildering and unacceptable to the wife. Neighborly advice may be rejected as it may add to rather than decrease the burden. On the other hand, an understanding neighbor who does not come to "hear the latest" but who comes to relieve the mother of some of her tasks, cook an occasional meal, or take the children to a play, can be greatly appreciated. An example of this is given in the interview of Mrs. S.
A husband's sense of loss may be even greater, since he may be less flexible or at least less used to concerning himself with matters of children, school, after-school activities, meals, and clothing. This sense of loss may appear as soon as the wife is bedridden or limited in her functioning. There may be a reversal of roles which is more difficult to accept for a man than it is for a woman. Instead of being served, he may be expected to serve.
Download


Copyright Disclaimer:
This site does not store any files on its server. We only index and link to content provided by other sites. Please contact the content providers to delete copyright contents if any and email us, we'll remove relevant links or contents immediately.