(Night Walker) by Lisa Kessler
Author:Lisa Kessler [Kessler, Lisa] , Date: December 13, 2017 ,Views: 1686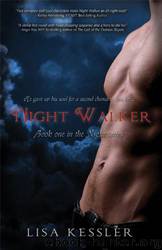 Author:Lisa Kessler [Kessler, Lisa]
Language: eng
Format: epub
Tags: but after meeting Calisto she's drawn to him in ways she doesn't understand. They've waited in the shadows for centuries… Calisto has no doubt Kate is the reincarnation of his lost love, Kate Bradley returns to San Diego to clear her head. The last thing she needs is romance, he wants redemption for the mistake that cost her life. She's haunted by dreams of her own death… After catching her fiance with another woman, He gave up his soul for a second chance to love her… Two and a half centuries ago, Calisto Terana lost everything when a zealous priest murdered the woman he loved. Now, desperate for another chance to love her, the betrayal that enslaved Calisto to the night might destroy the only woman he's ever loved again., but the Fraternidad Del Fuego Santo has a new watcher with dark ambitions of his own. As old enemies reemerge and a new threat arises
Published: 2011-12-29T08:14:26+00:00



Chapter Sixteen
The sun blazed through the window when Kate finally opened her eyes. Her muscles still felt a little tight from the run-in with the mugger the night before, and her knee was definitely bruised, but none of that mattered. What mattered was Calisto.
He was gone.
Kate sat up, looked around the room, and collapsed back on her pillow with a groan. The down comforter was askew, and sunlight filtered through the shutters onto the king-sized bed where Calisto should have been. She peered over toward the bathroom, but the door hung open and the room was dark.
He left without even saying good-bye.
Maybe she'd been wrong about him after all. Last night he held her until she drifted off against his chest. It didn't seem like a one-night stand. She saw the emotion in his eyes when they made love...
Or she thought she had.
When she rolled over to get up, she noticed something on the pillow beside her. His pillow.
She smiled, gently lifting the freshly cut Romneya bloom. Taking in its sweet fragrance, she picked up a folded slip of paper beside it.
Dearest Kate,
136 LISA KESSLER
Please forgive me for being such a terrible host. I had out-of-town business to attend to this morning, and you looked so peaceful that I did not wish to wake you. I left the phone number to reach Betty. She can assist you in retrieving your car. I hope I will find it in my driveway when I arrive home.
I am counting the minutes until I see you again.
Love eternally,
Calisto
Kate ran her finger across the words on the page, imagining he had touched them just a couple of hours earlier. The script was beautiful, not the chicken-scratch most men jotted down. Holding the flower in one hand, and the note in the other, she flopped back onto the down pillow and smiled.
She had to get a grip on herself. She was acting like a lovesick puppy.
But she didn't care. He hoped she'd be here when he got home.
He counted the minutes until he saw her again. Laughing softly, she rolled over in the bed. His scent still lingered on the pillows and sheets, and she breathed him in deeply before completing her rotation to look up at the ceiling. She opened the note, and read it one more time, pausing at the end.
Love eternally…
An oddly romantic salutation. She'd heard of "yours forever" or
"love always," but "love eternally" seemed almost like... a promise.
Maybe the salutation meant something different in Spanish than when he translated it into English.
She shook her head and sat up.
She was reading way too much into a short note. Time to get busy.
After a quick shower, Kate walked back into the bedroom wrapped in a plush white towel and stared at the mirror. She felt like a different person. Last night she'd experienced the most intense passion of her life. The thought of a condom hadn't even crossed her mind. Being on the pill made pregnancy worries nonexistent, but still…
In spite of her uncharacteristic recklessness, she had no regrets.
Download


Copyright Disclaimer:
This site does not store any files on its server. We only index and link to content provided by other sites. Please contact the content providers to delete copyright contents if any and email us, we'll remove relevant links or contents immediately.