Next to Last Stand: A Longmire Mystery by Craig Johnson
Author:Craig Johnson [Johnson, Craig] , Date: September 25, 2020 ,Views: 953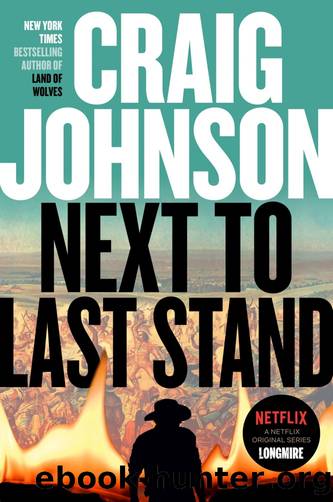 Author:Craig Johnson [Johnson, Craig]
Language: eng
Format: epub
Tags: Mystery, Suspense
ISBN: 9780525522539
Google: flT5DwAAQBAJ
Amazon: B084M5JR2Y
Goodreads: 51288694
Publisher: Viking
Published: 2020-09-15T05:00:00+00:00



* * *
—
"Car shopping on a Sunday night?"
"There aren't any crowds, or salespeople for that matter." She sashayed up and down the rows of vehicles at the dealership in Sheridan. "Do I have to go with silver or black and white? What if I want red?"
I called after her, "Join the fire department."
Henry leaned on the hood of a freshly minted pickup and watched her. "I think you have created a monster."
"You may be right." I called out to her again, "White, black or silver, or combinations of all of the above."
"Will the county actually pay for a new vehicle?"
"It'll have to go through the commissioners, but I don't see them saying no. Heck, I'm about to return a two-thousand-dollar computer."
"I thought it was downstairs?"
"Yep, but nobody uses it."
"Barrett would."
I laughed. "You're really pushing this kid."
"I think he is deserving."
"That's it?"
He turned to look at me. "Meaning?"
"You're not just trying to get under Lolo Long's skin?"
"I never have to try very hard to do that."
I nodded as a security guard exited the main building of the dealership and walked toward us with a flashlight in hand. "Which is why it surprises me that she's willing to ask us for help with this situation with her niece."
"That tells you how desperate she is. I think she is correct in having you involved in an investigation, and she knows I can provide a measure of security."
The guard arrived, an elderly man with a more salt than pepper mustache and a black operational dress uniform complete with ball cap and tactical shoes. He glanced at my truck, emblazoned with the Absaroka County Sheriff stars, emergency lights, and Dog's head hanging out the side window. "Walt?"
I stared at the man, finally recognizing him as security from the Soldiers' and Sailors' Home. "Gene?"
"Yeah, hey how are you guys doin'?"
"You work here too?"
"Gotta make ends meet after retirin'." He glanced at Henry and then back to me. "I saw your truck and thought there might be a problem."
I gestured toward Vic, who was now standing in front of a tricked-out half-ton with all the scoops, wheels, bells, and whistles. "My undersheriff needs a new unit."
"Oh." He glanced at Henry again. "I thought there might be something wrong."
"Nope, just shopping."
"Okay." He started backing away and then waved as he turned and walked by Vic, who ignored him.
Henry watched him go. "Conscientious worker."
"Maybe we can get Barrett a job here." I pushed off and moved over to where Vic studied her potential truck. "So?"
"I want this one."
"Why?"
"It has a ten-speed transmission and close to five hundred horsepower."
"No."
She turned to look at me. "What do you mean, no?"
"No, because you'd be dead in a week."
Placing her fists on her hips, she swiveled back and forth. "You said I could have anything I wanted."
"Within reason."
"Why is this not within reason?"
The Bear joined us as I leaned forward, reading the window sticker. "It costs as much as your house."
"Half as much."
"That's a lot of money for a truck." I stepped back to look at it.
Download


Copyright Disclaimer:
This site does not store any files on its server. We only index and link to content provided by other sites. Please contact the content providers to delete copyright contents if any and email us, we'll remove relevant links or contents immediately.