Mother of God by Paul Rosolie
Author:Paul Rosolie , Date: June 26, 2014 ,Views: 1486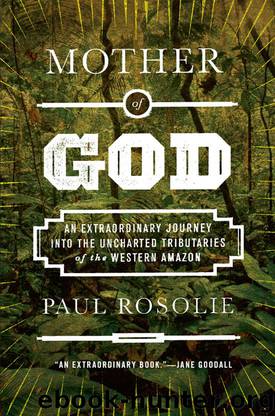 Author:Paul Rosolie
Language: eng
Format: azw3, mobi, epub
Publisher: HarperCollins
Published: 2014-01-30T08:00:00+00:00



12
The Beached-Whale Paradox
Until my ghastly tale is told, this heart within me burns.
—SAMUEL TAYLOR COLERIDGE, RIME OF THE ANCIENT MARINER
I once made a decision so ludicrously rash it nearly killed me, and by all rights should have. It occurred during my first solo excursion and resulted from a confluence of events that blindsided the Las Piedras. It was soon after my return from India, when I was old enough to grasp the scope of what was unfolding around me but young enough to lose my mind as a result. The psychotic adventure it sparked would take my relationship with the Amazon to places I never dreamed possible. It started with some very bad news.
It occurred while my world was still an emotional blur after leaving Gowri. JJ met me at the airport and hugged me for a long time and told me I'd been away far too long. He also told me that he and Emma had sold the station. It was no longer ours. I tried to figure out what this meant for my future, but there was no way to know. All JJ could tell me was that the buyer was a larger organization from the United States, and the paperwork was being put together. He said this could be the last trip we would make to the station. The question of how my life in the Amazon would continue, or if it would continue, saturated my consciousness.
Working to suppress countless questions, I did my best to engage the volunteers we brought by spotting wildlife and explaining interesting facts about what we saw, and a few groups passed uneventfully. I tried to savor the station, the forest, and as always kept an eye out for signs of Lulu, but I did not feel at ease. I was twisted by the uncertainty of the future. It was even worse watching JJ suffer as Emma prepared to leave permanently for the United Kingdom with Joseph.
On a day in between visiting groups, JJ and I were bringing supplies up to the station. As always, as we rode, I scanned the vines and towering trees—the massive green walls that fortressed the entirety of the river—and soaked in the visuals of Las Piedras. Rounding a bend, I smelled smoke and turned to JJ. "Who's burning stuff way out here?" I asked. From his expression, it was clear that he had not told me something.
The scene entered my mind like black poison. Interrupting the previously endless walls of green was a gaping hole in the jungle, where the forest had been completely burned to the ground. Smoke rose in twisting columns as the air shimmered above the inferno. Ash fell like snow onto the river. Everything was gone.
Suppressing tears, we surveyed the burned wreckage. Thousand-year-old trees lay slain and charred across the ground. Among them were the mangled remains of palms, vines, amputated buttresses, and other vegetation. Explosions shocked the air as large bamboo chambers burst, spitting ash and flame aloft. Hundreds of years of photosynthetic growth, thousands of species, millions of years of evolution, razed.
Download


Copyright Disclaimer:
This site does not store any files on its server. We only index and link to content provided by other sites. Please contact the content providers to delete copyright contents if any and email us, we'll remove relevant links or contents immediately.