Modern Mistress by Hannah Jay
Author:Hannah Jay , Date: October 7, 2019 ,Views: 108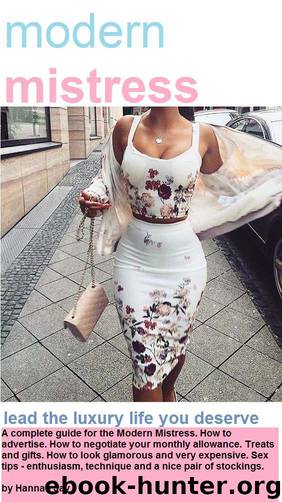 Author:Hannah Jay
Language: eng
Format: azw3
Published: 2016-07-03T04:00:00+00:00



Take Away
The modern mistress doesn't just provide sex as part of the package. She embraces her sexuality and, as importantly, works hard to understand how men generally and her patron in particular, are wired sexually.
Living in a pornified world means that men are exposed to a lot of rather de-contextualized sexual activity. This bit goes there or perhaps here. The further reaches of bondage, S&M, sex toys and a variety of other supposedly sexual activity are only a mouse click away. But for the modern mistress all of that is largely beside the point.
Her great sexual gift is to enthusiastically embrace and initiate the many things her patron wants, needs, craves. At the same time she entirely endorses Jerry Hall's famous maxim "Even if you have only two seconds, drop everything and give him a blow job. That way, he won't really want sex with anyone else." But, and it is huge but, the modern mistress makes it her business to be in complete control of the sexual end of the relationship.
Which means, and this is critical, that she has to begin to think of sex both as a woman and as a man. Where a woman might go for days without giving sex a second thought, a mistress thinking like a man, will learn to at least consider sex at least as often as she thinks about her lipstick or fixes her hair. To be a successful mistress is to anticipate rather than respond to what her patron might enjoy.
At the same time, the reality of the mistress world is that most patrons are considerably older than their mistresses. While they are certainly interested in sex it is not with the urgency that a man in his twenties might be interested. Yes, Viagra and its dups are wonderful things; but they are purely physical. For these aids to have full effect a man has to be erotically engaged.
How a modern mistress accomplishes engagement depends on her patron. For one man a glimpse of a stocking top or a single extra button undone on a shirt will be all it takes. For another a bit of suggestive talk will get the ball rolling.
Here, of course is an essential difference between a mistress and even the most expensive escort: an escort will have a repertoire of sexual moves which hit the sweet spots of the relatively wide cross section of men she deals with on a day to day basis. Call it a toolbox. As importantly, the escort operates at an impersonal distance from the client she is seeing at the moment. For a mistress "impersonal" is not an option. And her sexual toolbox needs to be focused on the desires of a single, long term, patron. With the escort it is all about the act, with a mistress sexuality is much more deeply contextualized.
Download


Copyright Disclaimer:
This site does not store any files on its server. We only index and link to content provided by other sites. Please contact the content providers to delete copyright contents if any and email us, we'll remove relevant links or contents immediately.