Mastering Respectful Confrontation: A Guide to Personal Freedom and Empowered, Collaborative Engagement by Joe Weston
Author:Joe Weston [Weston, Joe] , Date: January 1, 2018 ,Views: 986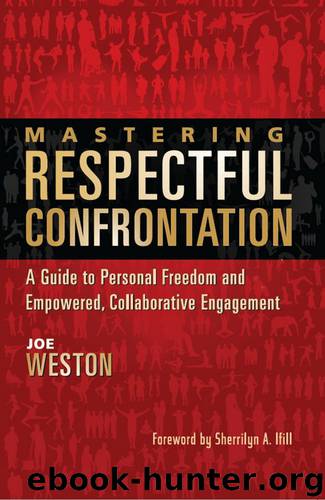 Author:Joe Weston [Weston, Joe]
Language: eng
Format: epub
ISBN: 9780983461401
Publisher: Heartwalker Press
Published: 2016-05-19T06:00:00+00:00



Wow, it is a rich and exciting world down there—just under the surface of how you present yourself to others and how you interact and engage. These factors are with you all the time and wherever you go! Do you recognize these elements in yourself and those around you? I'm sure you could come up with other unseen factors to add to this list that are more personal to you and your circumstances. For instance, when you see beliefs, what are your unique beliefs that influence your interactions? Can you identify your own personal wounds or desires and see how they could color how you engage with others?
Looking at our scenario with Peter and Rachel, ten percent of the interaction is in the words, "I would like a cup of tea." Let's say that Peter was successful in using all five steps to communicate. So, what could have possibly caused Rachel to storm angrily out of the room? Let's dive down and take a look: Maybe it had to do with the power dynamic of the relationship. Or maybe the idea of tea makes Rachel think about her beloved grandmother who just recently passed away and she was angry that Peter was so insensitive to mention tea at this time. These are just two possibilities. I'm sure you could come up with others.
Think about your interactions with others like friends and family, adversaries, and even strangers. Go to the supermarket and when you get to the check-out counter, take a moment to notice the interaction with the check-out person; be aware of all the factors that you bring to that encounter then think of all the possible factors they bring to it as well.
Practice this at all times. Do this at the dinner table. Nobody needs to know. Take a walk down a busy street. Be aware of the total you— all one hundred percent. Now be aware and feel the one hundred percent of everyone around you. What you discover is how rich and complex human beings are. This richness and complexity is the very thing that leads to growth and collaboration, but also has the capacity to destroy and break things down.
The point of closely examining these unseen forces is not to discourage you or make you think that you are an emotional mess, a victim to circumstance or that you are imprisoned by your patterns. On the contrary, the more you develop an intimate relationship with your own unconscious self, the more you can tap into the richness of who you are, celebrate the complexities of all these layers, and share that with the world in a creative way.
For the purpose of Respectful Confrontation, diving into the subtle realms of yourself and others makes you aware of how fragile and delicate communication is. Because there are so many factors that could lead to misunderstanding and throw you off balance in your engagement, it is essential to communicate in an authentic way and to really listen. This could motivate you to master the tools of Respectful Confrontation.
Download


Copyright Disclaimer:
This site does not store any files on its server. We only index and link to content provided by other sites. Please contact the content providers to delete copyright contents if any and email us, we'll remove relevant links or contents immediately.