Market Wizards by Jack D. Schwager
Author:Jack D. Schwager , Date: January 21, 2018 ,Views: 1947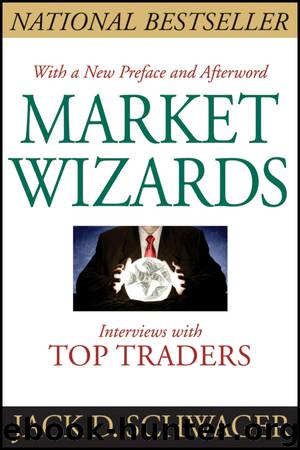 Author:Jack D. Schwager
Language: eng
Format: epub
Publisher: Wiley
Published: 2011-12-24T05:00:00+00:00



1. Most investors never get past the starting gate because they do not use good selection criteria. They do not know what to look for to find a successful stock. Therefore, they buy fourth-rate "nothing-to-write-home-about" stocks that are not acting particularly well in the marketplace and are not real market leaders.
2. A good way to ensure miserable results is to buy on the way down in price; a declining stock seems a real bargain because it's cheaper than it was a few months earlier. For example, an acquaintance of mine bought International Harvester at $19 in March 1981 because it was down in price sharply and seemed a great bargain. This was his first investment, and he made the classic tyro's mistake. He bought a stock near its low for the year. As it turned out, the company was in serious trouble and was headed, at the time, for possible bankruptcy.
3. An even worse habit is to average down in your buying, rather than up. If you buy a stock at $40 and then buy more at $30 and average out your cost at $35, you are following up your losers and mistakes by putting good money after bad. This amateur strategy can produce serious losses and weigh you down with a few big losers.
4. The public loves to buy cheap stocks selling at low prices per share. They incorrectly feel it's wiser to buy more shares of stock in round lots of 100 or 1,000 shares, and this makes them feel better, perhaps more important. You would be better off buying 30 or 50 shares of higher-priced, sounder companies. You must think in terms of the number of dollars you are investing, not the number of shares you can buy. Buy the best merchandise available, not the poorest. The appeal of a $2, $5, or $10 stock seems irresistible. But most stocks selling for $10 or lower are there because the companies have either been inferior in the past or have had something wrong with them recently. Stocks are like anything else. You can't buy the best quality at the cheapest price!
It usually costs more in commissions and markups to buy low-priced stocks, and your risk is greater, since cheap stocks can drop 15 to 20 percent faster than most higher-priced stocks. Professionals and institutions will not normally buy the $5 and $10 stocks, so you have a much poorer grade following and support for these low-quality securities. As discussed earlier, institutional sponsorship is one of the ingredients needed to help propel a stock higher in price.
5. First-time speculators want to make a killing in the market. They want too much, too fast, without doing the necessary study and preparation or acquiring the essential methods and skills. They are looking for an easy way to make a quick buck without spending any time or effort really learning what they are doing.
6. Mainstream America delights in buying on tips, rumors, stories, and advisory service recommendations. In other words, they are
Download


Copyright Disclaimer:
This site does not store any files on its server. We only index and link to content provided by other sites. Please contact the content providers to delete copyright contents if any and email us, we'll remove relevant links or contents immediately.