Investing For Dummies by Eric Tyson
Author:Eric Tyson , Date: August 19, 2014 ,Views: 2291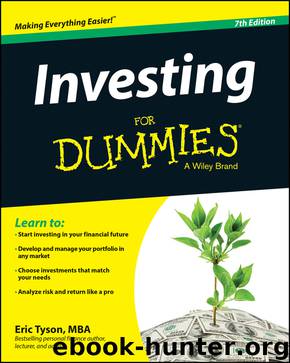 Author:Eric Tyson
Language: eng
Format: epub, mobi, azw3
ISBN: 9781118884935
Publisher: Wiley
Published: 2014-07-02T16:32:19+00:00



Taking other costs into account
Online brokerage customers often shop for low costs. However, by simply talking with many folks who have traded online and by reviewing online message boards where customers speak their minds, I've discovered that shopping merely for low-cost trading prices often causes investors to overlook other important issues. The biggest problem is firms that nickel-and-dime you with fees. For instance, some charge fees for real-time stock quotes (as opposed to quotes that may be 15 to 20 minutes old and are free). Other brokers whack you $20 here and $50 there for services such as wiring money or simply closing your account. Also beware of "inactivity fees" that some brokers levy on accounts that have infrequent trading. So before you sign up with any broker, make sure you examine its entire fee schedule.
Also beware below-market rates on money market accounts and many cut-rate brokers. When you buy or sell an investment, you may have cash sitting around in your brokerage account. Not surprisingly, the online brokers pitching their cheap online trading rates in 3-inch-high numbers don't reveal their money market rates in such large type (if at all). Some don't pay interest on the first $1,000 or so of your cash balance, and even then, some companies pay half a percent to a full percent less than their best competitors. In the worst cases, some online brokers have paid up to 3 percent less during periods of normal interest rates. Under those terms, you'd earn up to $150 less in interest per year if you averaged a $5,000 cash balance during the year.
Download


Copyright Disclaimer:
This site does not store any files on its server. We only index and link to content provided by other sites. Please contact the content providers to delete copyright contents if any and email us, we'll remove relevant links or contents immediately.